RELIABILITY YOU CAN COUNT ON
Cat® C7.1 engine offers high power density with a combination of proven electronic, fuel, and air systems.
Engine emissions are equivalent to U.S. EPA Tier 3.
Thorough component choice, design, and in-machine validation processes result in excellent reliability and uptime.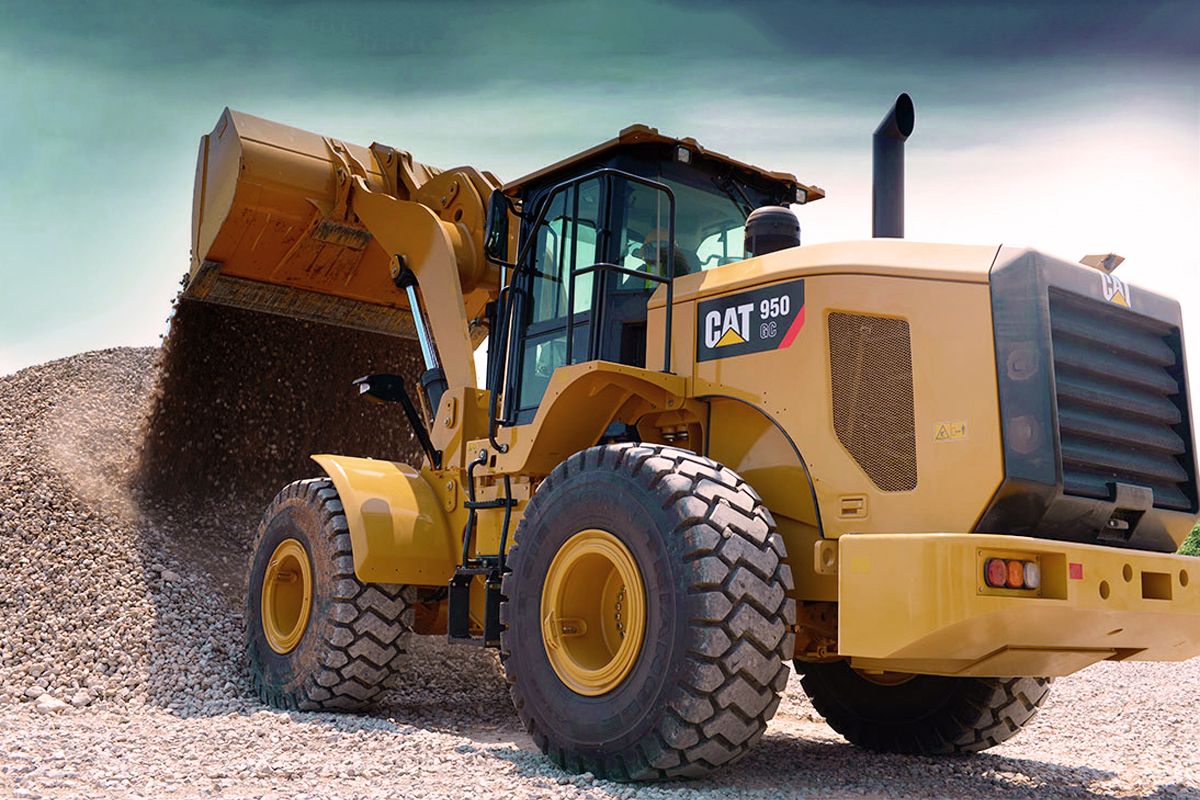 ACHIEVE GREATER PRODUCTIVITY
The proven Cat Z-bar linkage geometry with Performance Series Buckets offer excellent penetration into the pile and high breakout forces. Combined with best-in-class standard dump clearance, this results in low fuel consumption and exceptional production capabilities.
Cat designed, electronically controlled, automatic powershift transmission features shift protection and is equipped with a split flow oil system for efficiency, durability, and smoother gear changes.
Optional Fusion™ quick-coupler control features a selectable kickout to adjust for efficient bucket and fork applications.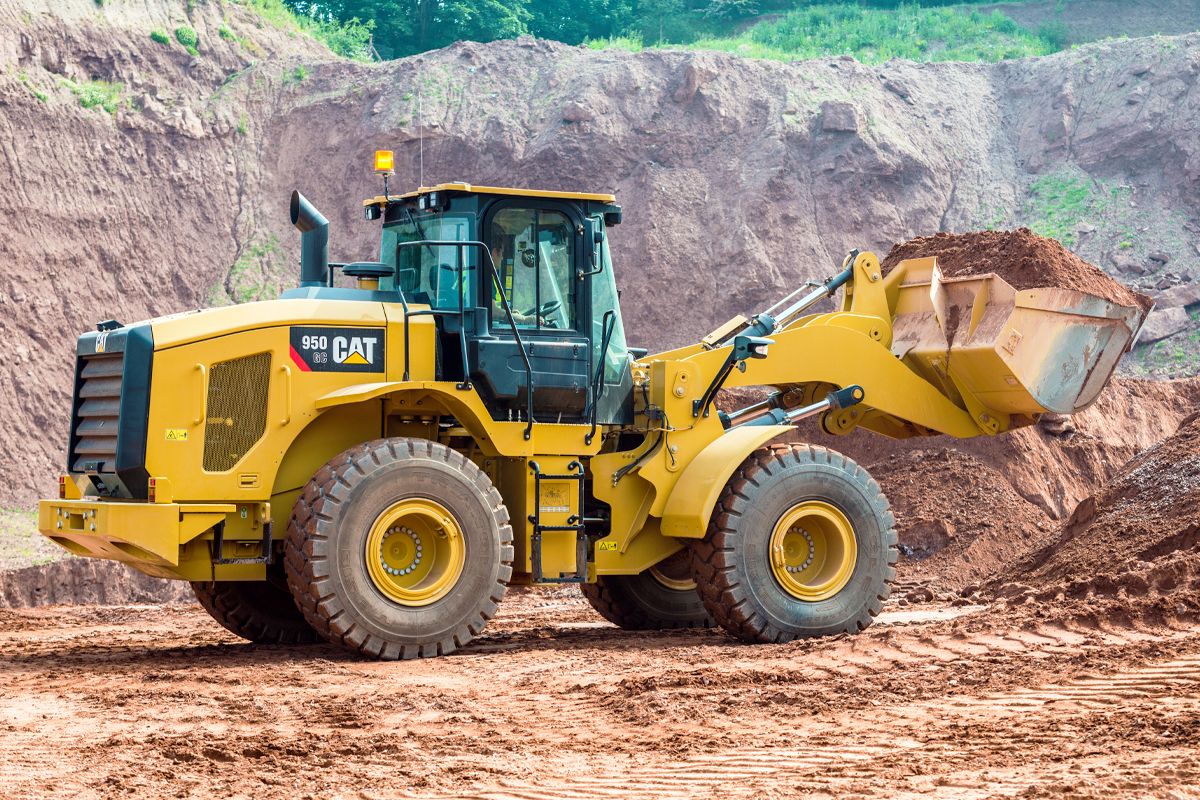 DO MORE WITH LESS FUEL
Engine Idle Management System (EIMS) and Auto Engine Idle Shutdown (EIS) maximize fuel efficiency by reducing engine rpm after a specified amount of idle time.
Electronically controlled, hydraulically driven variable speed fan adjusts to meet the varying cooling requirements of the machine. This results in a reduced average fan speed, lowering fuel consumption, noise levels, and radiator plugging.
Load sensing hydraulics produce flow and pressure for the implement system upon demand and only in amounts necessary to perform the needed work functions. This state-of-the-art system results in low fuel consumption.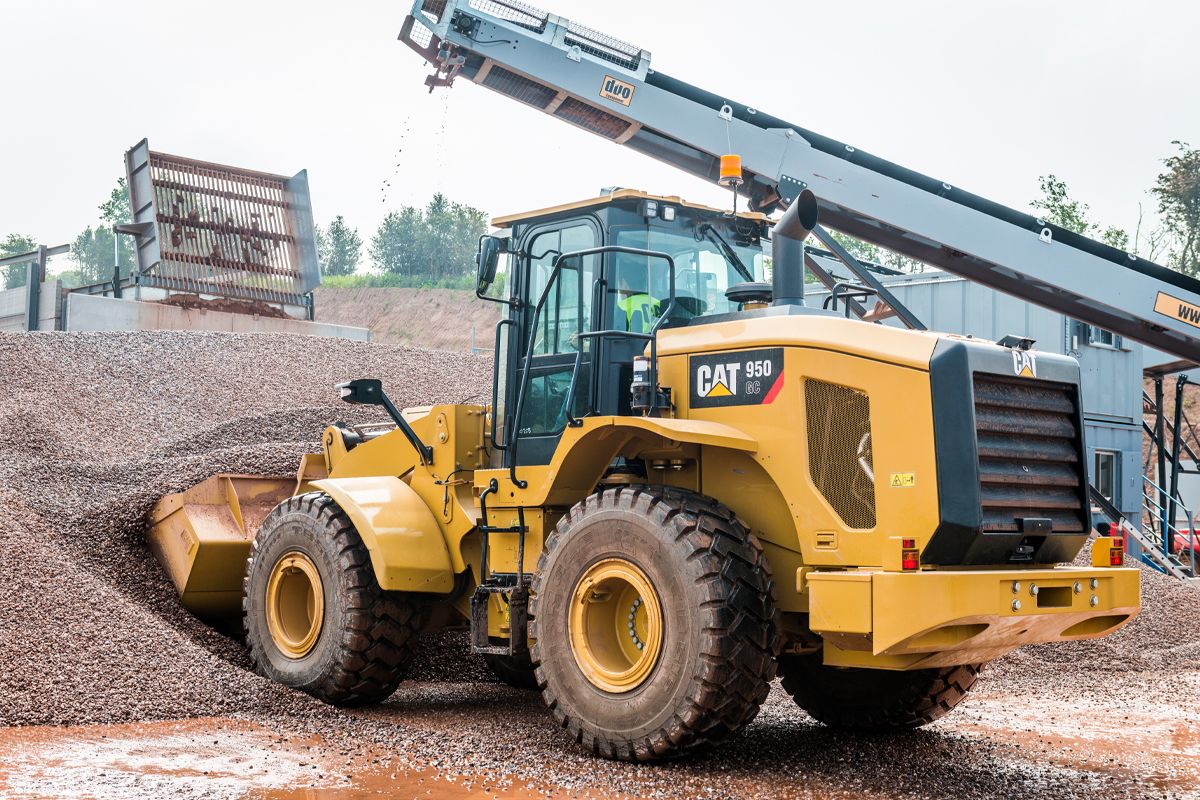 DESIGNED FOR OPERATORS
The spacious cab features easy, intuitive controls and excellent visibility which provides a comfortable working environment for efficient all day operation.
Pilot-operated hydraulic implement controls deliver comfortable, low-effort operation. Two single-axis levers or one joystick are available. Both arrangements are equipped with kick-down switches.
The adjustable steering column includes the F-N-R shifter and turn signal control lever.
Unmatched viewing area with a wide, flat, and distortion-free front windshield.
The glass stretches to the floor of the cab for excellent visibility to the bucket and front tires.
The cab roof has channels which direct rain off the corners of the cab, keeping windows clear.
Air conditioning system is standard. Ten louvered vents allow the operator to direct the air flow to remain productive and efficient all shift long.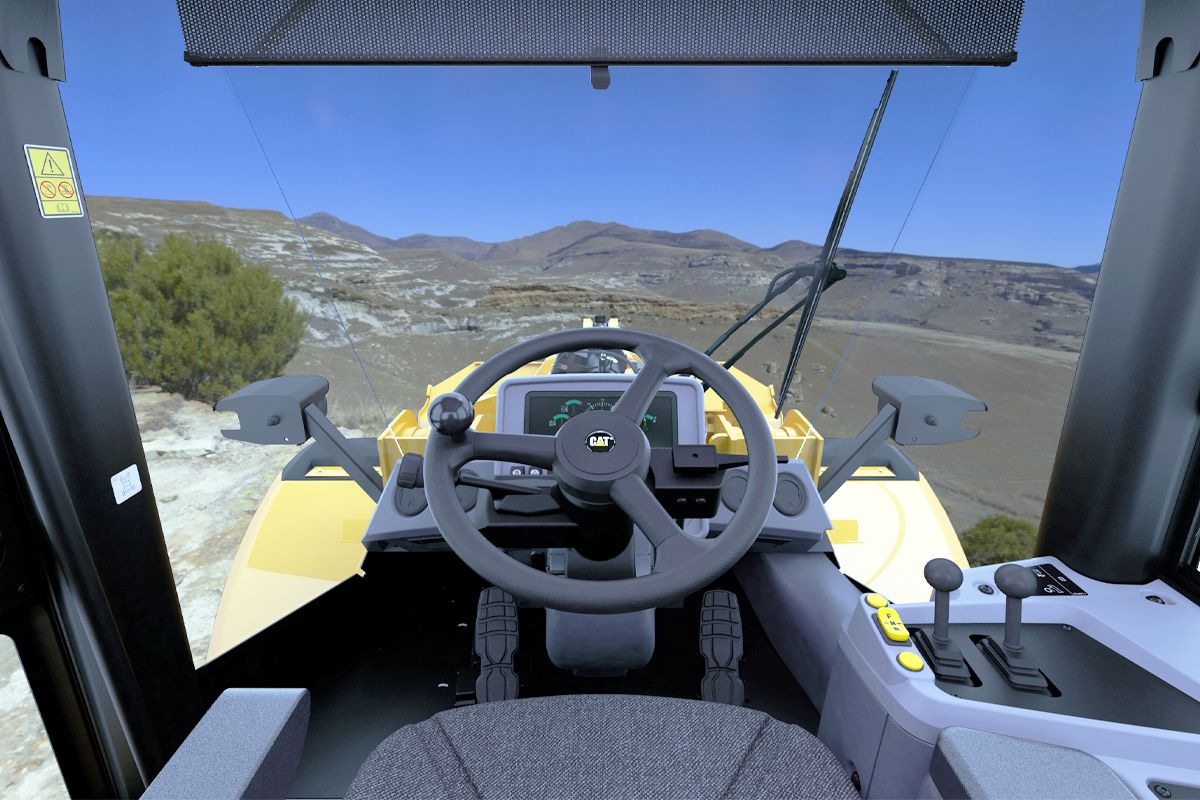 SAFELY HOME EVERY DAY
Ladders are standard on both sides of the machine to easily access the platforms.
Platforms are equipped with guard
 - and handrails for safe access to the cab.
The main cab door opens to the front and provides wide access to the operator environment.
Front and back wipers ensure that a clear view is maintained.
External rearview mirrors with integrated spot mirrors are standard.
A rear vision camera is standard to clearly monitor movement behind the machine.
Hinged wheel guards, easy removal/re-install.
Optional windshield and power train guards.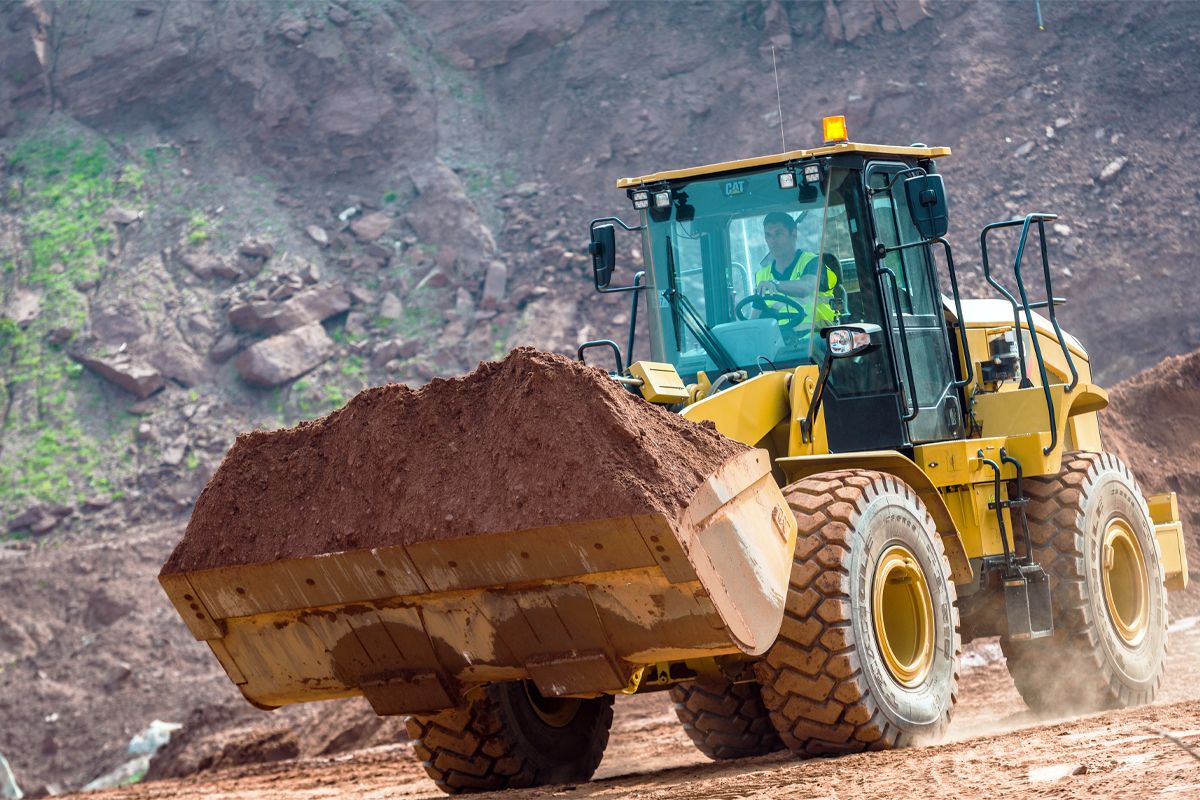 SAVE ON SERVICE AND MAINTENANCE
Grouped service points and sight gauges allow for easy daily maintenance.
Convenient access to left, right, and rear of engine compartment provides excellent serviceability.
Electrical and hydraulic service centers, along with additional key serviceability features, help make servicing and in-field component exchange quick, easy, and efficient.
A rear swing-up grill gives easy cleaning access to the cooling cores.
Hinged wheel guards are easy to remove/re-install, providing wide access to all maintenance points and to the engine compartment.
Optional power train bottom guard protects the machine against damage to reduce downtime.
Optional integrated Cat Autolube system provides full lube system monitoring and diagnostic test visibility. One-button control, including fault flash function.
Caterpillar design and manufacturing techniques assure outstanding service life.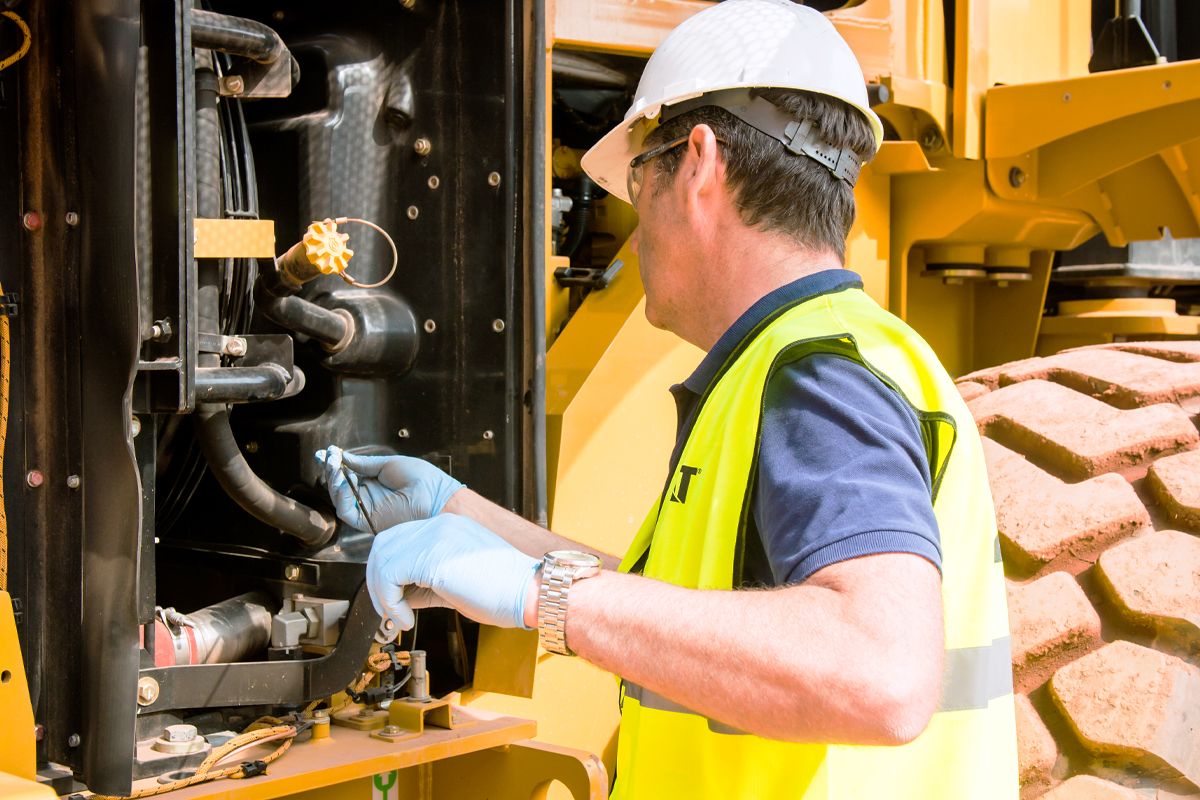 CAT PRODUCTION MEASURMENT KIT
This optional kit is simple to install compared to other 3rd party payload systems*.
On-the-go weighing** for precise load targets with proven accuracy, flexible installation, and easy calibration and setup.
Brings payload weighing to the cab so operators can work more productively and deliver consistently accurate loads.
Increases productivity, weighing while lifting with no interruptions in loading cycle.
High efficiency: load to exact specification, load more trucks faster, and move more material for more revenue.
Improve efficiency with less rework; save time, labor, fuel,and costs.

* Not available in all markets
** Not legal for trade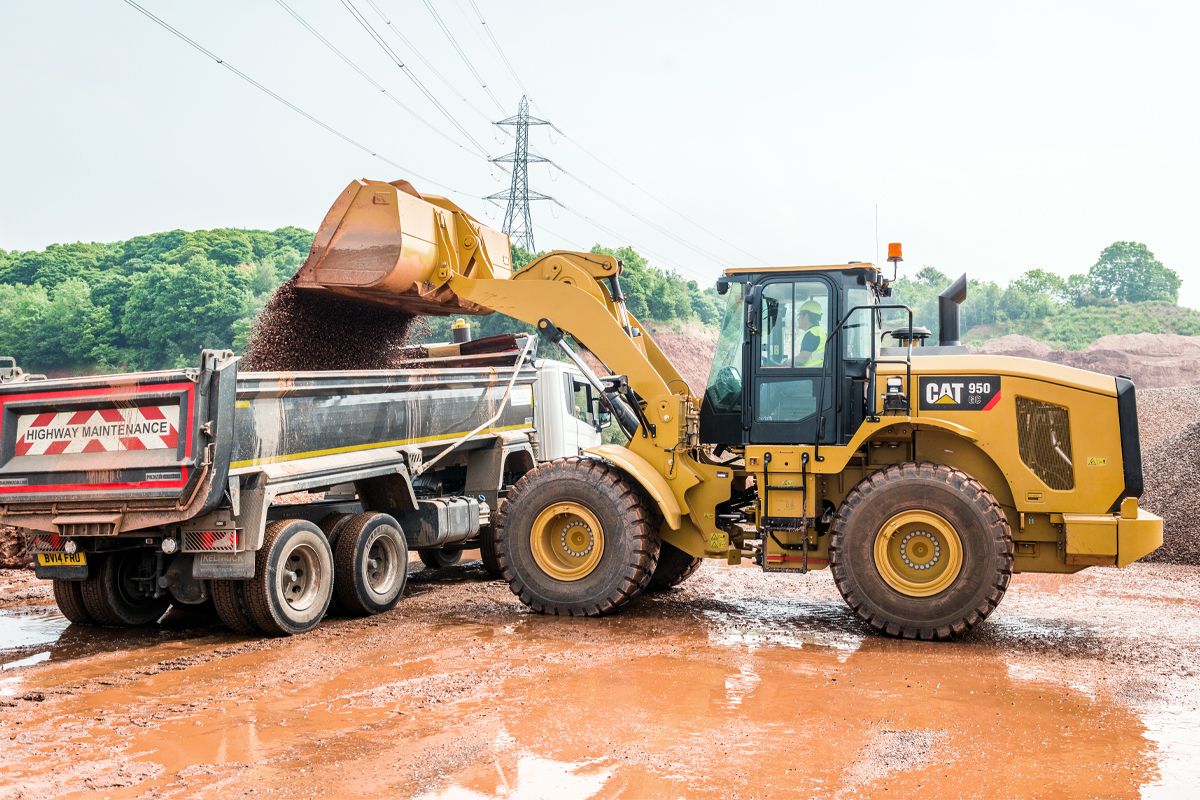 Engine
Net Power - ISO 9249

151 kW

(202 HP)

Engine Model

Cat C7.1

Bore

105 mm

(4.1 in)

Stroke

135 mm

(5.3 in)

Displacement

7.01 l

(427.8 inu00b3)

Maximum Gross Torque - 1,400 rpm

1020 N·m

(752 ft-lb)

Rated Net Power - 2,200 rpm - ISO 9249

151 kW

(202 HP)

Rated Gross Power - 2,200 rpm - ISO 14396

168 kW

(225 HP)

Maximum Gross Power - 2,000 rpm - ISO 14396

171 kW

(229 HP)

Maximum Net Torque - 1,300 rpm

931 N·m

(687 ft-lb)
Weights
Operating Weight

18676 kg

(41174 lb)
Buckets
Bucket Capacities

2.5-4.4 mu00b3 (3.3-5.75 ydu00b3)
Operating Specifications
Breakout Force

147 kN

(33047 lb)

Note (1)

**Compliance to ISO (2007) 14397-1 Sections 1 thru 5.

Static Tipping Load - Full 40u00b0 Turn - Rigid Tires**

11197 kg

(24685 lb)

Static Tipping Load - Full 40u00b0 Turn - ISO 14397-1*

10503 kg

(23155 lb)

Note (2)

*Full compliance to ISO (2007) 14397-1 Sections 1 thru 6, which requires 2% verification between calculations and testing.
Transmission
Forward - 1

7 km/h

(4.4 mile/h)

Forward - 2

12.5 km/h

(7.8 mile/h)

Forward - 3

22 km/h

(13.7 mile/h)

Forward - 4

34 km/h

(21.1 mile/h)

Reverse - 1

7 km/h

(4.4 mile/h)

Reverse - 2

12.5 km/h

(7.8 mile/h)

Reverse - 3

22 km/h

(13.7 mile/h)
Hydraulic System
Steering System - Pump Type

Piston

Hydraulic Cycle Time - Dump, at Maximum Raise

1.2 s

(1.2 s)

Hydraulic Cycle Time - Total Cycle Time

10.1 s

(10.1 s)

Hydraulic Cycle Time - Lower, Empty, Float Down

2.8 s

(2.8 s)

Hydraulic Cycle Time - Raise from Carry Position

6.1 s

(6.1 s)

Implement System - Optional 3rd Function Maximum Flow

280 l/min

(74 gal/min)

Implement System - Maximum Pump Output at 2,200 rpm

248 l/min

(65.5 gal/min)

Implement System Pump Type

Piston

Implement System - Maximum Operating Pressure @ 50 u00b1 1.5 L/min (13.2 + 0.4 gal/min)

27900 kPa

(4047 psi)

Implement System - Optional 3rd Function Maximum Pressure @ 70 L/min

20680 kPa

(2999 psi)
Brakes
Brakes

Brakes meet ISO 3450
Tires
Choices

Choices include: 23.5-25 16PR, L3 (Triangle); 23.5R25, L3 (Triangle); 23.5R25, L3 (Bridgestone)
Cab
ROPS/FOPS

ROPS/FOPS meet ISO 3471 and ISO 3449 Level II standards
Service Refill Capacities
Differential - Final Drives - Front

40 l

(10.6 gal (US))

Crankcase

20 l

(5.3 gal (US))

Fuel Tank Size

290 l

(76.6 gal (US))

Differential - Final Drives - Rear

38 l

(10 gal (US))

Transmission

45 l

(11.9 gal (US))

Hydraulic Tank

120 l

(31.7 gal (US))

Cooling System

48 l

(12.7 gal (US))
Dimensions
B-Pin Height

4188 mm

(13.7 ft)

B-Pin Height - Carry

655 mm

(2.2 ft)

Lift Arm Clearance

3649 mm

(12 ft)

Centerline of Rear Axle to Edge of Counterweight

2001 mm

(6.6 ft)

Height - Top of ROPS

3458 mm

(11.4 ft)

Height - Top of Exhaust Pipe

3596 mm

(11.8 ft)

Height - Top of Hood

2568 mm

(8.4 ft)

Ground Clearance

460 mm

(1.5 ft)

Wheel Base

3300 mm

(10.8 ft)

Centerline of Rear Axle to Hitch

1650 mm

(5.4 ft)

Rack Back - Maximum Lift

60 u00b0

(60 u00b0)

Dump Angle at Maximum Lift

52 u00b0

(52 u00b0)

Rack Back - Carry

45 u00b0

(45 u00b0)

Rack Back - Ground

40 u00b0

(40 u00b0)

Height - Center Line of Axle

750 mm

(2.5 ft)
Turning Radius
Turning Radius - Inside of Tires

3419 mm

(11.2 ft)

Turning Radius - Outside Edge of Counterweight

6190 mm

(20.3 ft)

Turning Radius - Outside of Tires

6164 mm

(20.2 ft)

Width - Over Tires

2745 mm

(9 ft)
Standard Equipment
NOTE

Standard and optional equipment may vary. Consult your Cat dealer for details.

POWER TRAIN

Engine – Cat C7.1 Stage IIIA/Tier 3
Torque converter
Transmission, automatic, power shift (4F/3R), kick-down function, overspeed protection
Brakes, full hydraulic enclosed wet-disc
EIMS (Engine Idle Management System)
Fan, radiator, electronically controlled, hydraulically driven, temperature sensing, on demand
Filter, fuel primary/secondary/tertiary
Fuel/water separator
Filters, engine air, primary/secondary
Fuel priming pump (manual)
Muffler, sound suppressed
Radiator, unit core (9.5 fpi) with ATAAC
Starting aid, glow plugs
Switch, transmission neutralizer lockout

HYDRAULICS

Load sensing implement system pilot operated
Dedicated load sensing steering pump
Dedicated brake and fan gear pump

ELECTRICAL

Alarm, back-up/main disconnect switch
Alternator (115-amp, brush type)
Batteries, maintenance free (2×900 CCA)
Ignition key; start/stop switch
Lighting system, halogen (6 total): – Four (4) halogen work lights – Two (2) halogen roading lights
Starting and charging system (24-volt)
Starter, electric (heavy duty)

OPERATOR ENVIRONMENT

Air conditioning with 10 vents and filter unit located outside of cab
Bucket/work tool function lockout
Cab, pressurized and sound suppressed
Hydroformed (ROPS/FOPS) structure
12V power port (10A)
Coat hook
Pilot hydraulic controls, lift and tilt function; two (2) single axis levers or joystick
Heater and defroster
Horn
Cup holders and personal tray on right console
Storage tray behind seat
Mirrors, rearview internal and external
Seat, Cat Comfort (cloth) mechanical suspension, auto-retractable seat belt
Steering column, adjustable angle
Wipers/washers (front and rear)
Window, sliding (left and right side)
Computerized monitoring system

OTHER STANDARD EQUIPMENT

Lift and return-to-dig kick outs (Electro‑Magnetic), mechanical adjustment
Doors, service access (locking)
Fenders (front and rear) steel
Grill, airborne debris
Hitch, drawbar with pin
Hood, non-metallic on steel structure
Counterweight, 1800 kg
Linkage, Z-bar, fabricated crosstube/tilt lever
S·O·S oil sampling valves
Product Link Ready