SAFETY
Ingress/egress doors, with rear door featuring level floor to prevent trip hazards, particularly in cases of emergency where rapid exit from the cab is necessary.
Superior visibility with full operator-to-boom point line of sight, plus maximum operator situational awareness provided by five optimally mounted cameras and operator cab mounted overhead displays.
Safe and convenient access with non-skid material on roof and shoe walkway surfaces to prevent falls, and serrated bar grating stairs, platforms and walkways that facilitate safe movement around the machine.
Unique three seat design that accommodates operator, trainer and maintenance person; observer's seat positioned behind operator to provide maintenance personnel with the operator's view while them to monitor operator actions; and separate operator and trainer emergency stop buttons.
Safety-enhanced electrical system, with emergency stop system that is hardwired dual string with safety relay; all operator interface controls that are 24 volt; available Arc Flash evaluation; single point of motion disable for mechanical maintenance of machine; key interlocking to prevent access to incoming High Voltage connection areas; and stored energy warning signs installed.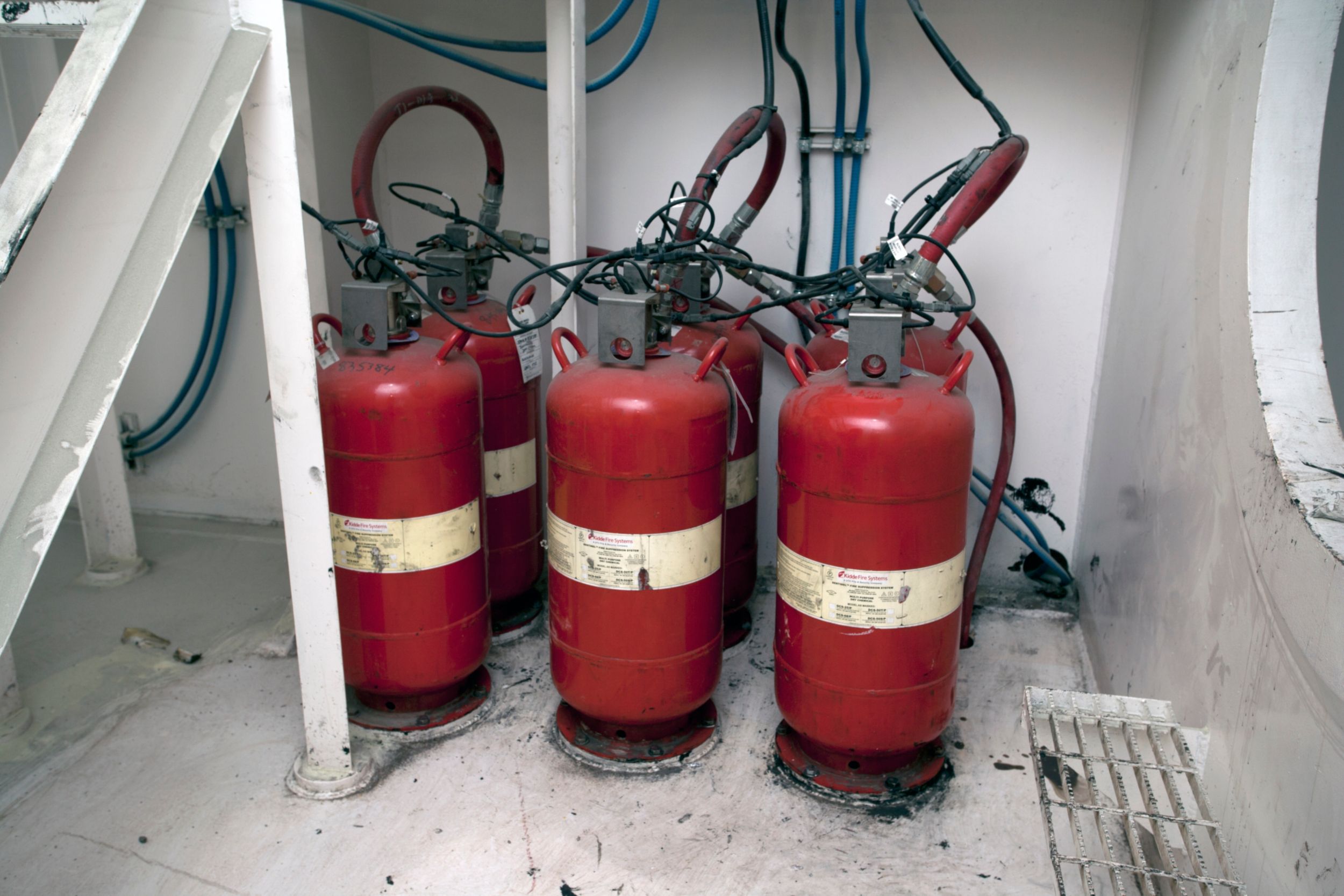 CONFIGURED FOR EACH SITE
Application engineers who work collaboratively with mines, considering factors such as digging environment, mine life, mine plan and annual production targets to determine the proper dragline configuration for each customer's mine site.
Engineers who analyze mine environments and apply the findings to recommendations for new draglines as well as upgrade recommendations for existing dragline fleets.
OPERATOR CAB
State-of-the-art operator cab that is the product of a multi-year collaboration between Caterpillar, mining companies and operators.
Provides industry-leading visibility with excellent line of sight supplemented by optimally mounted cameras and display screens.
Reduced cognitive fatigue and enhanced productivity via the intuitive and visually aesthetic display screens.
Effortless operation and improved control response resulting from new Hall Effect joysticks (patent pending), with custom-designed ergonomic handles and "finger touch control" spring tension.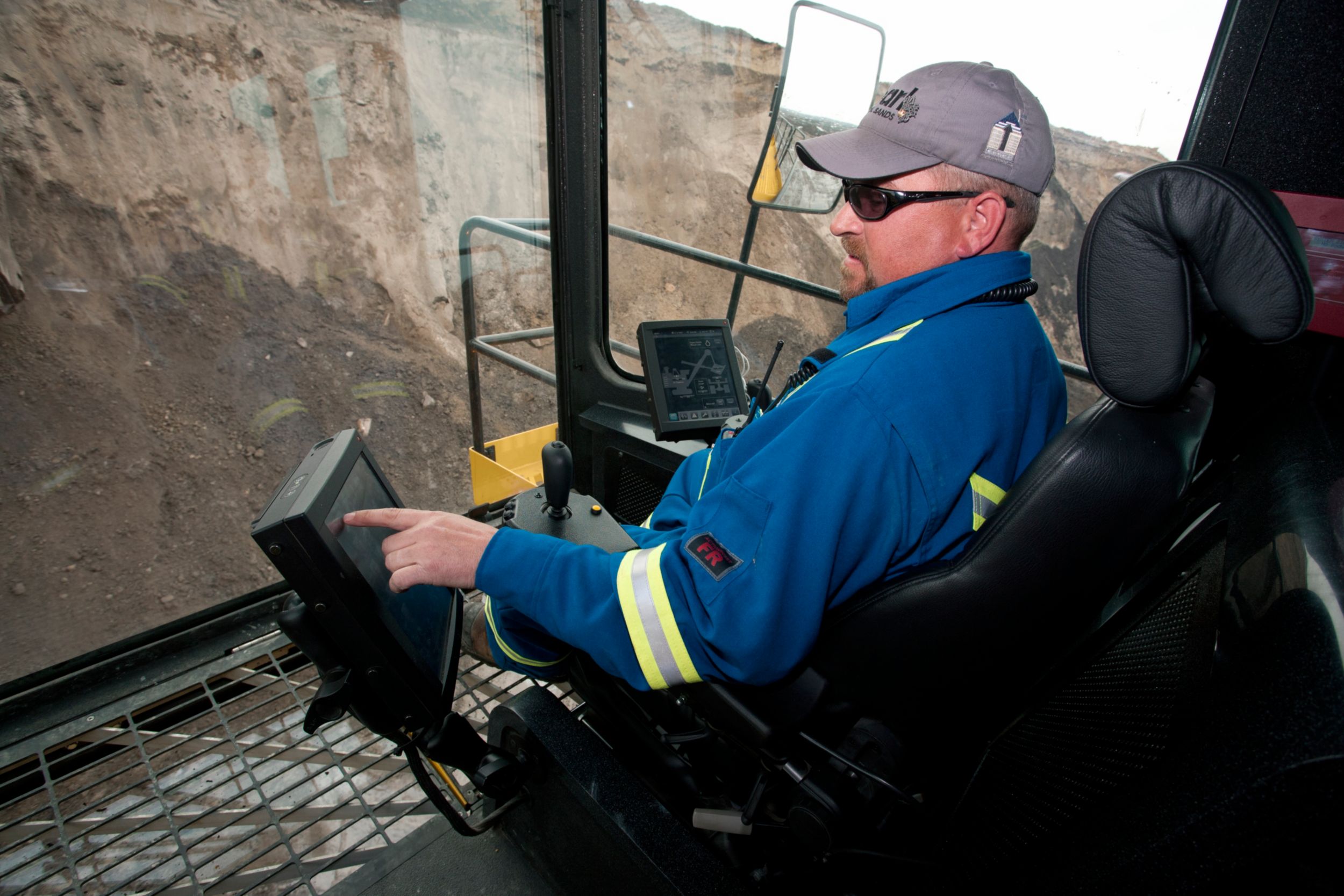 SERVICEABILITY
Improved service access with walkways across the machine, plus easy accessibility to the base via manholes inside and outside of roller circle path; revolving frame access, which improves the ability to move from section to section throughout all compartment spaces; raised platforms for swing, brake, blower and electrical termination maintenance; substantial walkways/work areas around deck-mounted machinery and electrical equipment; and ready accessibility to hoist and drag drums via stairs, walkways and platforms.
Overhead cranes that provide coverage to most major components.
Easily accessible maintenance point for lube servicing.
Robust exterior flood lighting brackets that allow changing of flood lights from walkways and platforms; and machinery house internal highbay lighting that is accessible from boxes with quick opening hatches on top of roof.
DURABILITY
Boom and Tri-Structures manufactured using impact-resistant, high-strength steel with select welds of full penetration, profiled and ground type.
Structural welds that undergo visual inspection, with critical welds also receiving MT, UT or X-ray inspection; and large furnaces used to stress-relieve critical weldments.
Base frame assembly that features radial design to optimize load and access, forged integral center pintle, stress-relieved "T-section" roller path sub-weldment and thick bottom plate with abrasion resistant steel wear plates and anti-skid cleats.
Large diameter machined crowned rollers, with a third rail that eliminates flanged rollers, which allows the addition of more rollers to significantly extend service life.
AC components located in sturdy, mine-grade cabinet, with reliability features including major control and power electrics that are derived from the transportation sector, allowing for high temperature ratings, shock and vibration ruggedness, and longevity of component availability; IP 54 enclosure that is liquid cooled, transferring heat out of machinery house; cabinets that allow optimized cable routing; and cable internals that are organized to allow efficient access to internal components.
RELIABILITY
Equipped with AC IGBT Electrics, which deliver superior availability — routinely greater than 95% — thanks to fewer components, interchangeable inverters; no filters; no fuses or circuit breakers required; elimination of regular maintenance on power control modules; and reduced maintenance resulting from lack of motor and generator brushes requiring change-out.
Electric drive system that operates independent of mine network, delivering full power with voltage ±10% and ability to continue to operate with reduced power with voltage –10% to –30%.
Highly reliable swing planetary transmission and output pinion, with interchangeable parts across all swing drives, potential for machine to operate with removal of one swing unit (typical maintenance), cooler/filtration unit plumbed to each planetary gearcase, and ability to control and monitor via dragline Programmable Logic Controller (PLC).
Hoist/drag machinery featuring parallel shaft gearcases, with eccentric bearing cartridges for optimal gear alignment; gearing, bearings, drums, etc., that are interchangeable between hoist and drag motions; splash lubricated gearcases with optional filtration available; leak-proof inspection hatches for inspection of all gear mesh; drums that are mounted on self-aligning, anti-friction bearings; and motors coupled to input pinions with grid couplings to reduce impact loads.
Propel machinery featuring heavy duty eccentric cam, driven by bull gear and parallel shaft gearbox; eccentric bushing continuously monitored via RTDs; and PLC that will alarm and shut down machine if permissible temperatures are exceeded.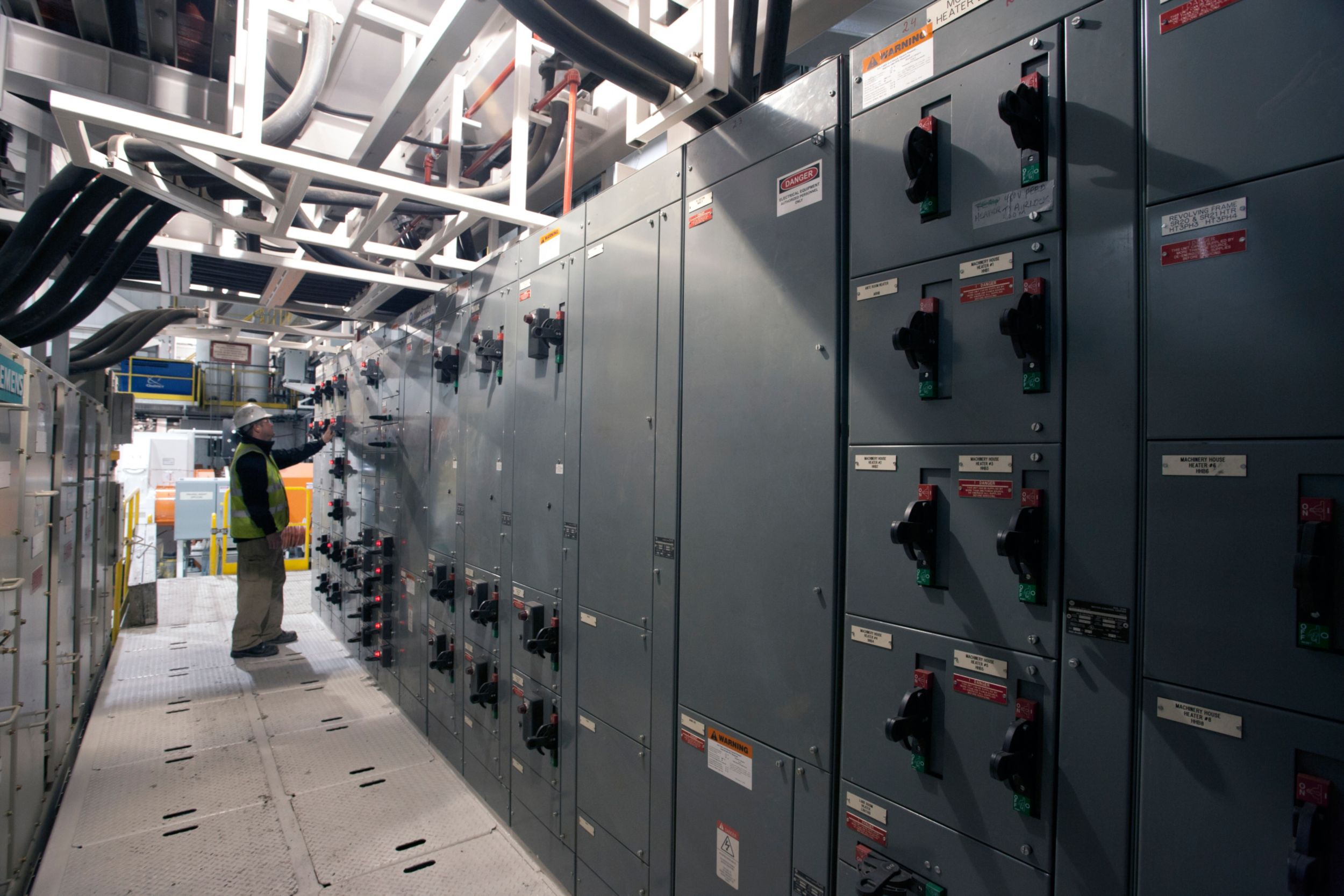 TECHNOLOGY
Equipped to use Cat MineStar™ Health, which delivers critical event-based machine condition and operating data, comprehensive equipment health and asset monitoring capabilities, and a wide range of diagnostic, analytic and reporting tools.
Can utilize MineStar Terrain, which enables high-precision management of the dragline operation through the use of guidance technology, increasing productivity and providing real-time feedback for improved efficiency.
Equipped to use MineStar Fleet, which provides real-time machine tracking, assignment and productivity management, providing a comprehensive overview
of all asset operations from anywhere in the world.
AccessDirect electric interface system, which reduces repair times and daily maintenance efforts and enhances local and remote diagnostic capabilities by facilitating remote access to the onboard computer; permitting monitoring, adjustment, resetting and modification of electrical parameters; and enabling high-speed data transfer.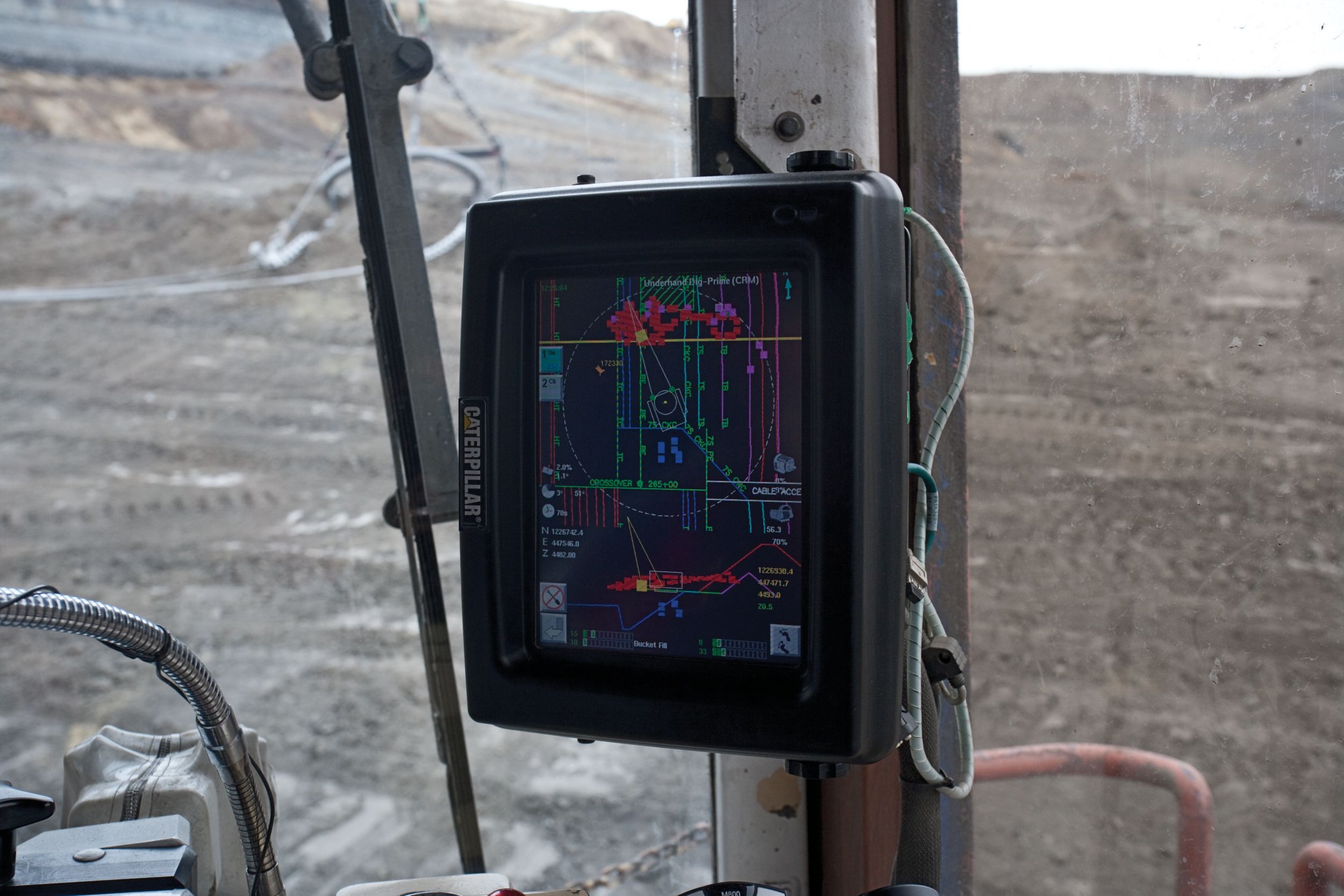 PERFORMANCE AND RELIABILITY UPGRADES
Full mechanical component upgrades for existing draglines, with Finite Element Analysis expertise to ensure that replacement parts outperform the original components.
Mechanical upgrades that include major dragline structure repair/replacement for improved reliability and productivity enhancement; boom modifications to optimize Rated Suspended Load (RSL), operating radius, digging depth and dumping height; and re-engineered components for improved performance.
Electrical upgrade solutions that allow the electrical system to work in harmony with onboard mechanical systems, allowing owners of legacy draglines to reap the benefits of the latest technology.
Electrical upgrades that include drive system upgrades for enhanced performance; programmable Logic Controller (PLC) & Human Machine Interface (HMI) upgrades for enhanced safety and availability; Production Monitoring System for optimized productivity; and onboard troubleshooting and remote diagnostics for improved reliability.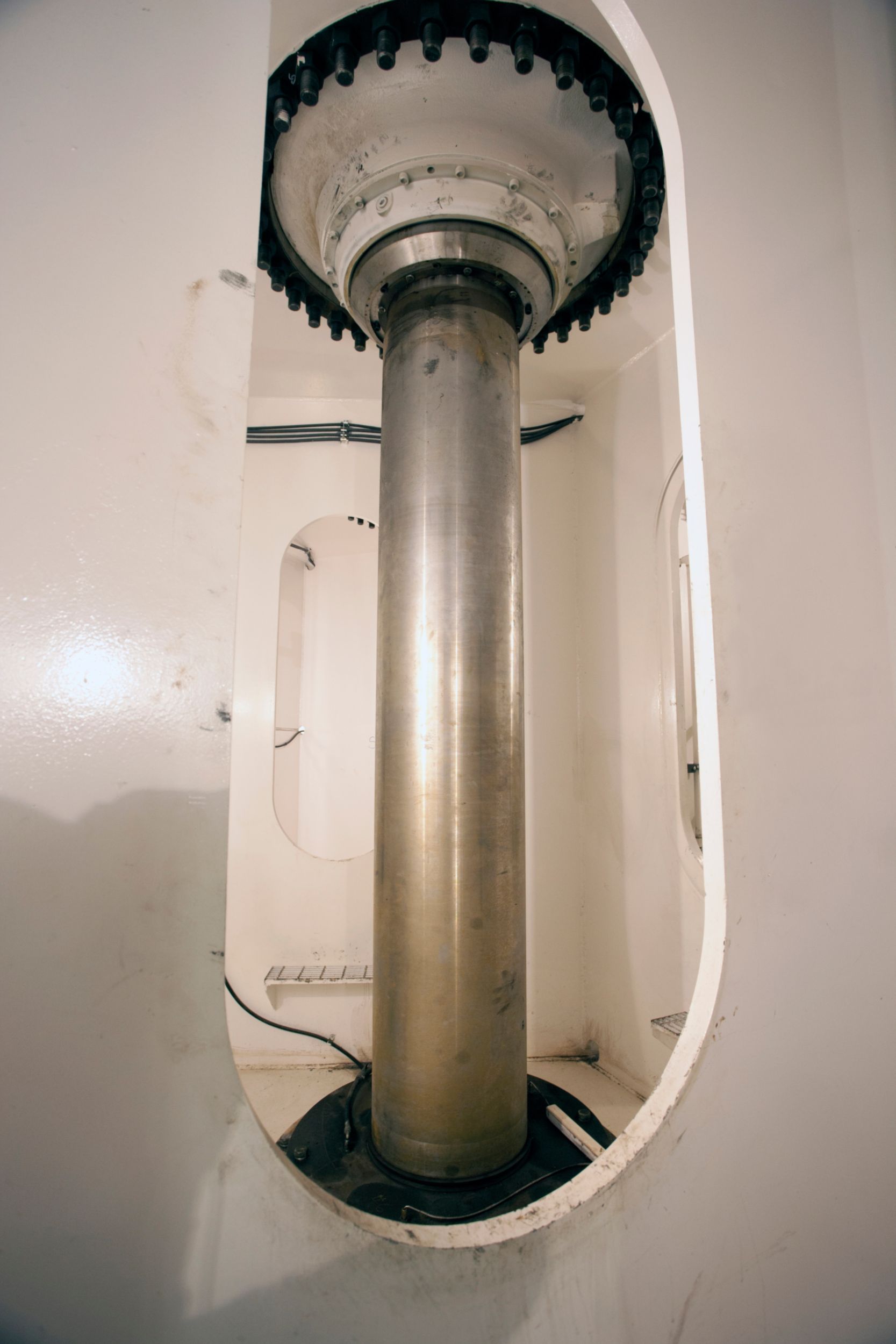 GROUND ENGAGING TOOLS & WIRE ROPE
Multiple tip options, including Heavy Duty Below Centerline, which is designed for extreme top abrasion and high-impact environments most common in dragline applications.
Retainer built into the tip for simplified operation; can be locked or unlocked with just one turn to speed change-up; and hammerless system requires no special tools and enhances safety.
Cat lips that feature 100% CapSure retention and machined fit surface for optimized fit.
Quality Cat wire rope, manufactured using thermal injection process that provides complete penetration of plastic into the rope to resist the unwanted effects of abrasion and impact damage by encapsulating the strands to reduce steel-to-steel contact and seal in lubricants that prolong wire life.
Cat Dragline Wire Rope available in 6
 - and 8-strand design, with and without plastic impregnation; lengths and fittings built to specific requirements.
AFTERMARKET SOLUTIONS & SUPPORT
Unmatched institutional knowledge of current and legacy dragline models to ensure informed upgrade recommendations, leading to more productive and reliable operations following relocation.
Aftermarket Engineered Solutions (AES) sales support team, which uses a holistic design methodology to provide custom aftermarket upgrades that meet customer-specific goals, from increasing productivity and efficiency to addressing mine plan limitations.
Top-notch overhaul and relocation services for pre-owned draglines with turnkey solution that includes OEM dragline parts, dragline service expertise and local resources, including providing informed upgrade recommendations.
Highest quality original equipment component rebuild services for both legacy draglines and current models in use today.
Globally available Cat dealer and Caterpillar service and support resources including machine upgrades tailored to each serial number and application, parts planning and machine maintenance services, inventory management support and high degrees of customization and flexibility.
SUSTAINABILITY
Offers the lowest material removal cost per ton, consumes less power and emits fewer greenhouse gases than other methods of overburden removal.
Cat Reman and Cat Rebuild programs, which return end-of-life components to like-new condition.
IGBT electric drive system that provides energy savings accompanied by higher productivity over the life of the dragline.
Specifications
Bucket Capability

76-116 m3 (100-152 yd3)

Boom Length

109.7-132.5 m (360-435 ft)

Working Weight - Approximate

5.8-7.5 million kg (13.1-15.9 million lb)
Dimensions - Working Ranges
Boom Lengths

109.7-132.5 m (360-435 ft)

Bucket Capabilities

76-116 m3 (100-152 yd3)

Rated Suspended Load

226,800-344,736 kg (500,000-760,000 lb)