Serviceability
The improved power train rebuild life, new modular design and new machine protection features can save you up to 2,400 servicing hours over the life of the machine.*
Cat C27 ACERT™ engine, 533 mm (21 in) transmission and lower power train provide 33 percent additional machine life before needing to be rebuilt.**
New, innovative main component modular design means they can be removed and installed quicker and easier. Transmission and cooling package can be removed up to 70 percent faster than the 24M.
Fluid Service Center provides single location at ground level for access to engine, transmission, hydraulic oil and coolant. This feature, along with clustered filters and extended service intervals, saves you maintenance time and operating costs.
Hoses and electrical harnesses are split at easily accessible bulkhead locations allowing your service technicians to work with smaller sections easier and faster.
Ok-to-Start and Critically Low Fluid monitoring systems protect your machine by providing electronic verification of fluid levels and alerting you when low fluid levels are detected, protecting your machine.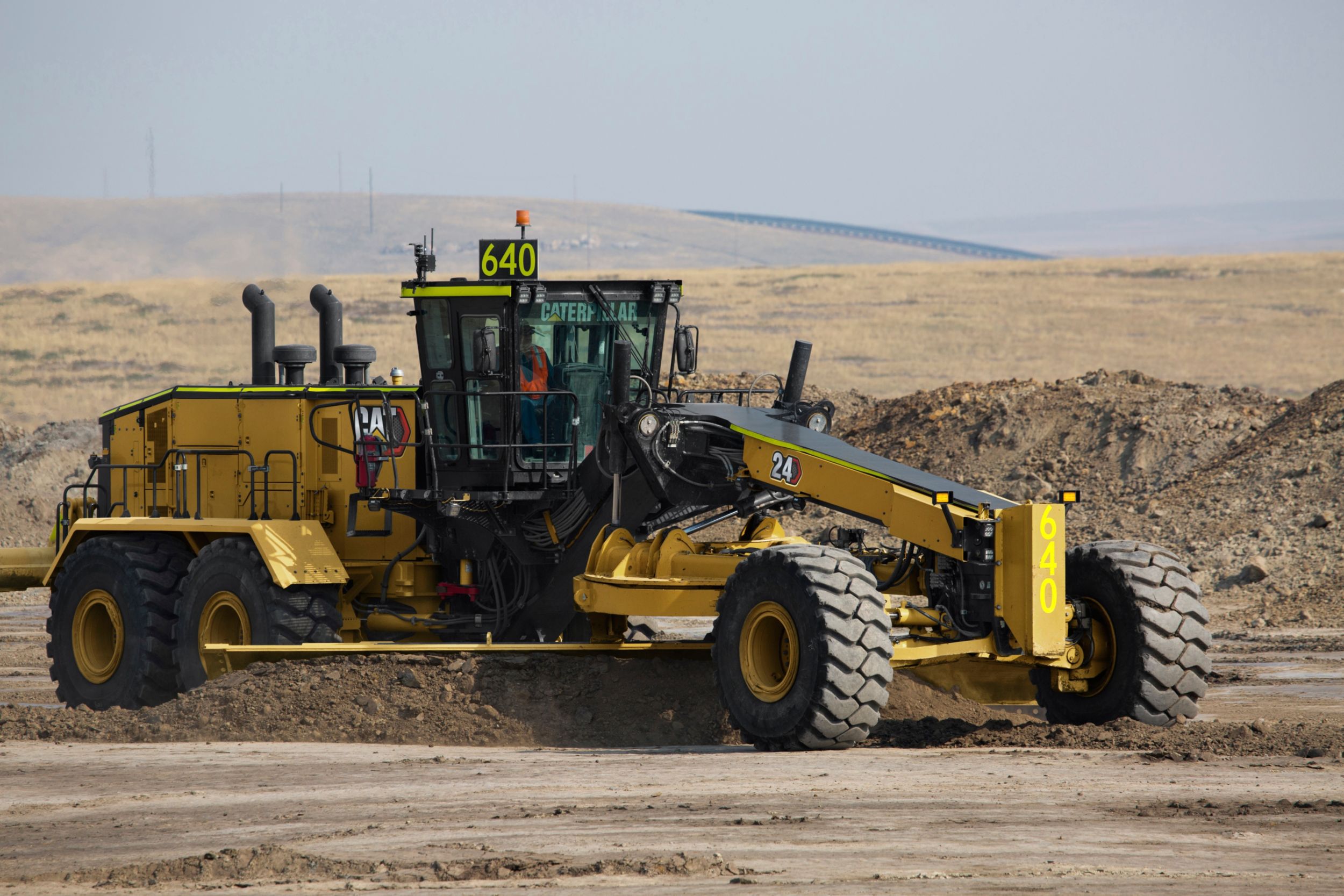 Performance
Cat C27 ACERT engine provides enhanced altitude capabilities with no derate up to 3048 m (10,000 ft) for U.S. EPA Tier 4/EU Stage IV emission standards and 4572 m (15,000 ft) for equivalent Tier 2/Stage II emissions.
An 11 percent weight increase helps provide more traction and blade down pressure than the 24M.
Consistent Power-to-the-Ground changes real-time engine power levels to offset cooling fan losses resulting in best performance at all times independent of ambient conditions.
Safety
Fifteen tie-off points located around engine enclosure and cab provide secure tie off hooks protecting you and your technicians when performing service operations.
Optional Working at Heights package adds an extra layer of safety by providing handrails and hand holds to improve access and safety.
The 24 is a Fire Suppression-Ready machine which means you can easily install a fire suppression system to further protect your investment.
Standard rearview camera provides better visibility from the cab to behind the machine while optional front-facing cameras provide enhanced forward and side visibility.
Standard seat belt indicator provides visual/audible alerts when the seat belt is not in use. The 24 is pre-wired so you can easily install a beacon on top of the cab to indicate seat belt usage.
Technology
The 24 features asset protection and performance-improving technologies including: engine overspeed/underspeed, second generation steering system, articulation eStop, ripper auto stow, implements lock out and circle angle limits, to name a few.
Standard Cat GRADE with Cross Slope improves operator productivity and haul road quality and durability by helping maintain desired cross slope for appropriate water drainage by automatically controlling one side of the blade.
The Cat 24 is MineStar™ ready and includes Cat Product Link™ Elite and VIMS™ to help optimize equipment management, remote monitoring capabilities, machine availability and component life while reducing both repair cost and the risk of a catastrophic failure.
*Life assumed is 64,000 hours.
**24 power train rebuild life target is 16,000 hours.
Engine
Base Power (1st Gear) - Net

399 kW

(535 HP)

Engine Model

Cat C27 ACERT

Bore

137.2 mm

(5.4 in)

Stroke

152.4 mm

(6 in)

Speed at Rated Power

1,800 rpm

Base Power (1st gear) - Net (Tier 4)

399 kW

(535 HP)

Emissions

Tier 4 Final/Stage IV or Equivalent to Tier 2/Stage II

Maximum Altitude - Full Power (Tier 2)

4572 m

(15000 ft)

Maximum Altitude - Full Power (Tier 4)

3048 m

(10000 ft)

Note (1)

Net power is tested per ISO 9249, SAE J1349, and EEC 80/1269 Standards in effect at the time of manufacture.

Note (2)

Optimized VHP Plus is standard for the 24.

Note (3)

Net power advertised is the power available at rated speed of 1,800 rpm, measured at the flywheel when engine is equipped with fan, air cleaner, muffler and alternator.

Note (4)

Power as declared per ISO 14396. Rated rpm 1,800 (561 hp)

Peak Net Torque

3277 N·m

(2417 ft·lbf)

Standard - Fan Speed

1,300 rpm

Standard Capability

50 u00b0C

(122 u00b0F)

Torque Rise

19%

Displacement

27.03 l

(1648 inu00b3)

Number of Cylinders

12
Front Frame Structure
Circle - Outer Diameter

2631 mm

(104 in)

Front Axle - Total Oscillation per Side

32u00b0

Front Axle - Wheel Lean - Left/Right

18u00b0
Moldboard
Blade Width

7.3 m

(24 ft)

Blade Height

1025 mm

(40 in)

Thickness

50 mm

(2 in)
Blade Range
Maximum Depth of Cut

550 mm

(21.7 in)

Blade Tip Range - Backward

0u00b0

Blade Tip Range - Forward

40u00b0

Circle Centershift - Left

804 mm

(31.7 in)

Circle Centershift - Right

437 mm

(17.2 in)

Maximum Lift Above Ground

410 mm

(16.1 in)

Maximum Shoulder Reach Outside of Rear Tires - Left

3175 mm

(125 in)

Maximum Shoulder Reach Outside of Rear Tires - Right

3175 mm

(125 in)

Moldboard Sideshift - Left

970 mm

(38.2 in)

Moldboard Sideshift - Right

1150 mm

(45.3 in)
Weights
Operating Weight - Typically Equipped

73344 kg

(161695 lb)

Gross Vehicle Weight - Base* - Front Axle

19894 kg

(43858 lb)

Gross Vehicle Weight - Base* - Rear Axle

51669 kg

(113910 lb)

Gross Vehicle Weight - Base* - Total

71563 kg

(157769 lb)

Gross Vehicle Weight - Typically Equipped - Front Axle

20169 kg

(44466 lb)

Gross Vehicle Weight - Typically Equipped - Rear Axle

53125 kg

(117229 lb)

Gross Vehicle Weight - Typically Equipped - Total

73344 kg

(161695 lb)
Air Conditioning System
Air Conditioning

The air conditioning system on this machine contains the fluorinated greenhouse gas refrigerant R134a (Global Warming Potential = 1430). The system contains 2.0 kg of refrigerant which has a CO2 equivalent of 2.860 metric tonne.
Weights
Note

*Base operating weight calculated on standard machine configuration with 29.5R29 tires, full fuel tank, operator and ROPS cab.
Standard Equipment
POWER TRAIN

Engine: C27 with ACERT technology
24-volt electric start
Air filters, dual with precleaner
Automatic dust ejector
Ether starting aid
Automatic fan, suction with hydraulic demand
Drive, near zero fan speed
Torque divider, lock-up
Transmission, 533 mm (21 in) planetary powershift with 6F/3R, ECPC
Enhanced auto-shift, APECS
Directional shift management
Differential, lock/unlock (auto/manual)
Parking brake, multi-disc, sealed and oil cooled
Fast fill (fuel, hydraulic, transmission, coolant)
Fuel priming pump, electric
Electronic prescreener water/fuel
Prescreener separator, water/fuel
Thermal shields
Fluid monitoring (engine, transmission, hydraulic, differential)

ELECTRICAL

Alarm, back-up
Alternator, 150 ampere, sealed, filtered air intake
Maintenance free batteries, 12V (4), 200 amp-hour
Heavy duty starter (two)
Electrical hydraulic valves, base 8
Electrical system, 24 volt
Lights, reversing, stop, tail, turn
Starter receptacle plug-in

OPERATOR ENVIRONMENT

Air conditioner and heater sound suppressed, pressurized cab 73 dB(A) ISO 6394 at 70 percent fan speed
Adjustable armrest
Electro-hydraulic controls
Electronic throttle control
Automatic return to center articulation
10 inch digital touch screen information display
Rear vision camera
Coat hook
Comfort suspension seat, cloth-covered
Front fixed laminated window glass with intermittent wiper, sides (two), rear with wiper/washer
Retractable seat belt, 76 mm (3 in)
Hydraulic implement lockout for roading and servicing

TECHNOLOGY PRODUCTS

VIMS – 3G
Grade control X slope
Overspeed/underspeed protection
Second generation steering system
Ripper auto stow
Circle angle limits

SAFETY AND SECURITY

Fire suppression ready
Circle drive slip clutch
Locking doors
Ground level engine shutdown
Secondary steering
Working at heights tie-off anchors
Rear tandem access platforms
Seat belt indicator

GROUND ENGAGING TOOLS

Moldboard, 7315 mm x 1067 mm x 50 mm (24 ft x 42 in x 2 in)
Rear ripper with seven shank capacity, three shanks/tips provided

OTHER STANDARD EQUIPMENT

Blade lift accumulators
Lincoln Centro-Matic Autolube System
Drawbar, eight shoe with replaceable wear strips
Fuel tank, 908 L (240 gal) fast fill
Ground level fueling
Push plate-counterweight
SOS ports, engine, hydraulic, transmission, coolant, fuel
Hydraulic and electric bulkheads
Fluid service center: engine, transmission, hydraulic oil, and coolant ports
Optional Equipment
OPERATOR ENVIRONMENT

Heated seat
Heated and ventilated seat
Air horn
Radio Bluetooth
Radio Satellite Sirius
Outside mounted mirrors
Heated outside mounted mirrors 24V
Rear view camera additional dedicated monitor
Auto articulation

POWER TRAIN

Bar and plate duel core radiator
Precleaner Sy-klone
Control blade variable float

GUARDS

Guard Package including mud guard (two) bottom, eng. Compartment and front axle (two)
Tandem fenders with mounted guardrails
Sound suppression guard package

ELECTRICAL

Halogen operator access lighting package
LED operator access lighting package
Working halogen lighting package
Working LED lighting package
LED warning strobe light

SAFETY

Duel Access CAB platform
Front facing cameras (two)
Fire suppression system
Wheel chocks with mounting bracket

OTHER ATTACHMENTS

VIMS and Satellite Product Link
VIMS and Duel (Cell/Satellite) Product Link
Rims Only option, 25″ x 29″ MP

WORK TOOLS/G.E.T.

Flat 406 mm x 60 mm (16 in x 2.36 in) cutting edge
Serrated 406 mm x 75 mm (16 in x 2.95 in) cutting edge
Miningbit 355.6 mm x 75 mm (14 in x 2.13 in) cutting edge system
Tooth, ripper

FLUIDS

Cold Weather Package – Arctic hydraulic oil, engine, hydraulic, transmission and coolant heater (240V/30A)