TECHNOLOGY THAT GETS WORK DONE
Optional Stable Blade improves grading precision by decreasing engine speed at 15 percent intervals when machine bounce is detected then increases engine rpm systematically when grader stabilizes.
Optional Cat Grade with Cross Slope helps maintain desired cross slope by automatically controlling one side of the blade.
Optional Cat Grade uses positioning and guidance technologies, machine sensors, and automatic blade control to help get to grade faster, easier, and more efficiently.
Optional Auto Articulation allows you to articulate automatically while steering in tight spaces or around curves, obstacles, and turnarounds.
Manage your fleet of machines while reducing fuel burn with Cat Production Measurement System option. The Efficiency Coach and Application Segmentation work together to monitor operators and machines simultaneously. Measure your jobsite's efficiency and productivity from anywhere on the website.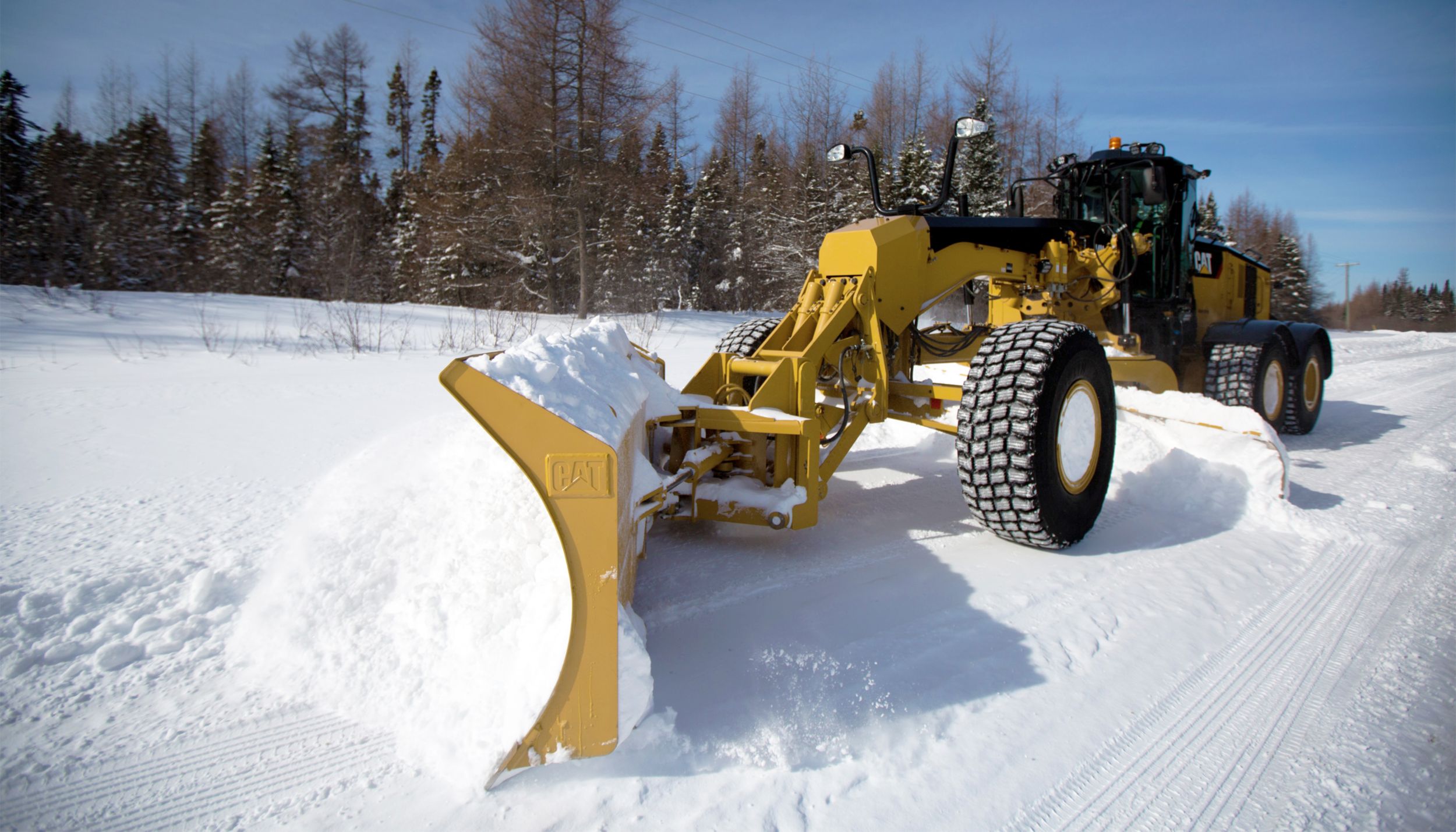 MOVE MORE, BURN LESS
Cat C13 engine meets U.S. EPA Tier 4 Final/EU Stage V, Tier 3/Stage IIIA equivalent or Tier 2/Stage II equivalent emission standards, depending on emission standards of specific country.
Standard Economy Mode can be turned on to limit maximum engine speed which helps reduce fuel consumption.
Standard VHP Plus provides ideal amount of power in all gears.
Standard Automatic Differential Lock unlocks differential during a turn and re-locks when straight for easier operation and improved power train protection.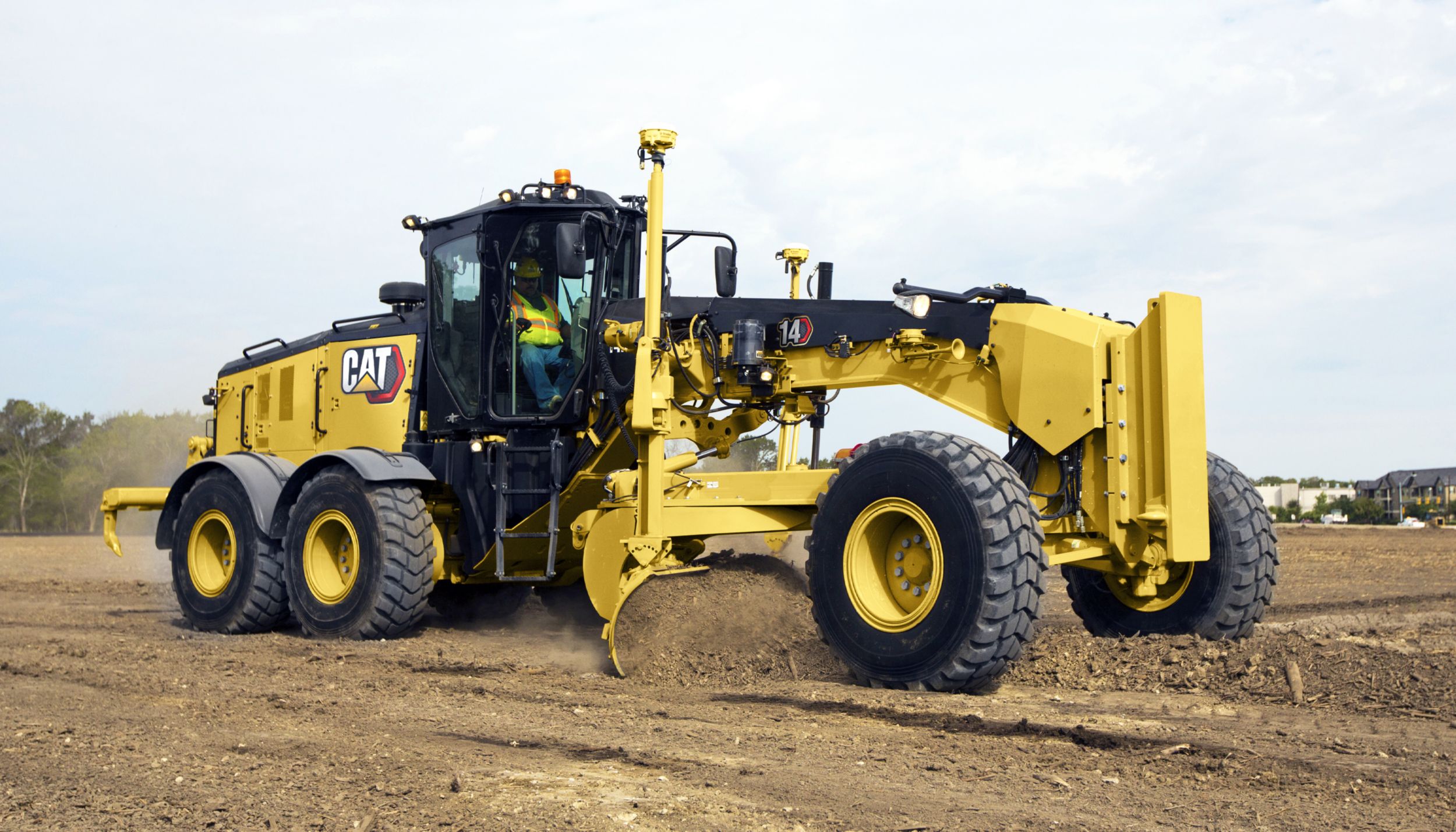 MORE CONTROL AND EFFICIENCY
Load-sensing system and advanced electro hydraulics give operator superior implement control and hydraulic performance.
Proportional Priority Pressure-Compensating valves have different flow rates for head and rod ends of cylinder so machine responds consistently and predictably.
Balanced hydraulic flow is proportioned to ensure all implements will operate simultaneously without slowing engine or speed of some implements.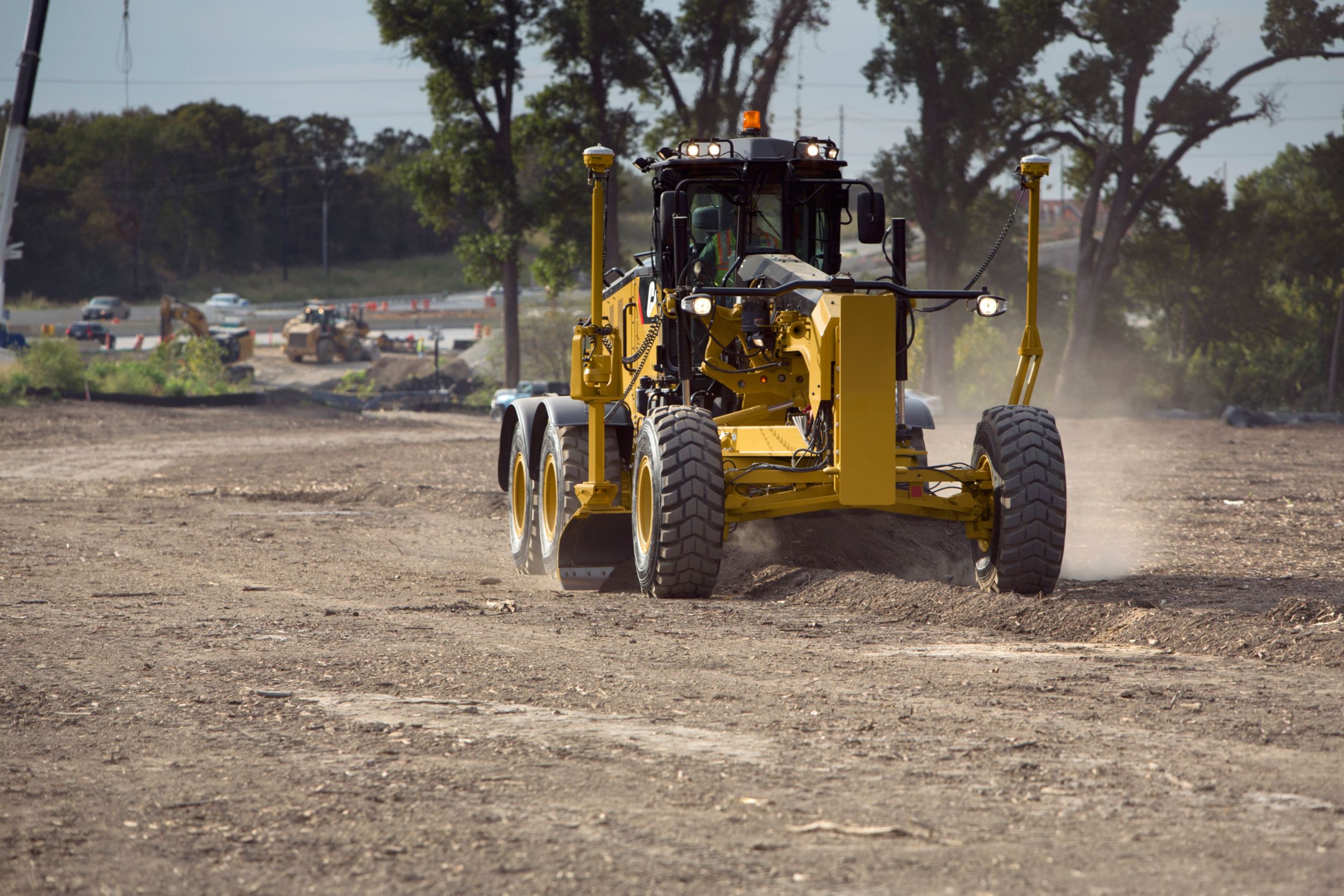 DESIGNED FOR OPERATORS
Simple, intuitive joystick controls replace levers, so hand and arm movement is reduced by 78%, helping reduce operator fatigue.
Optional Advanced Control Joysticks allow operator to control automated grading solutions efficiently and safely without removing hands from the joysticks.
Selectable blade lift modes
 - Fine, Normal, or Coarse
 - allow operator to match application requirements.
Articulation Return-to-Center automatically returns machine to a straight frame position from any angle with the touch of a button.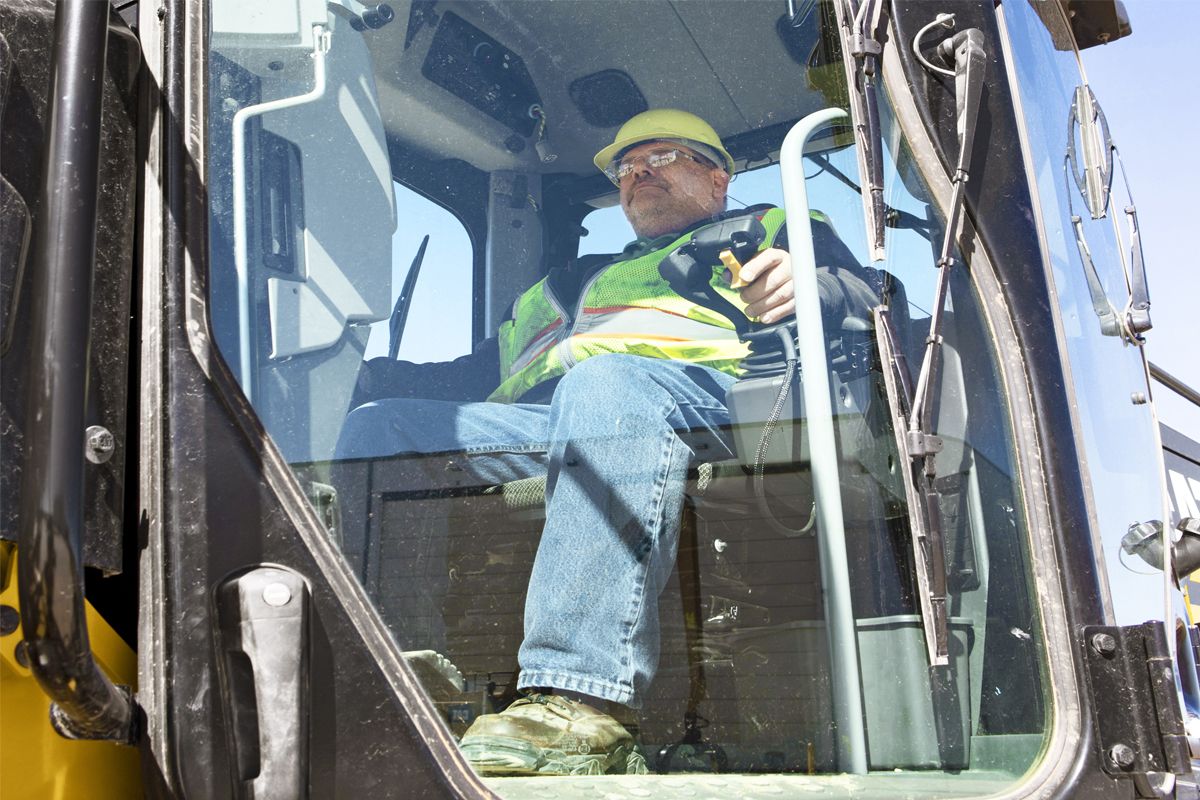 BUILT-IN SAFETY FEATURES
Optional rear vision camera enhances sight to rear of machine.
Electrical disconnect and engine shutoff switches are ground level.
Operator Presence System keeps parking brake engaged and hydraulic implements disabled until operator is seated and machine is ready for operation.
Hydraulic Lockout disables all implement functions while still providing machine steering control
 - especially useful while roading.
Optional seat belt indicator promotes safe operating habits.
SAVE MAINTENANCE TIME
Convenient access from the top of the circle to the patented top-adjust wear strips and inserts make them easy to add or replace.
Shim less Moldboard Retention System uses vertical and horizontal adjusting screws to keep moldboard wear strips aligned for reduced blade chatter and precise blade control.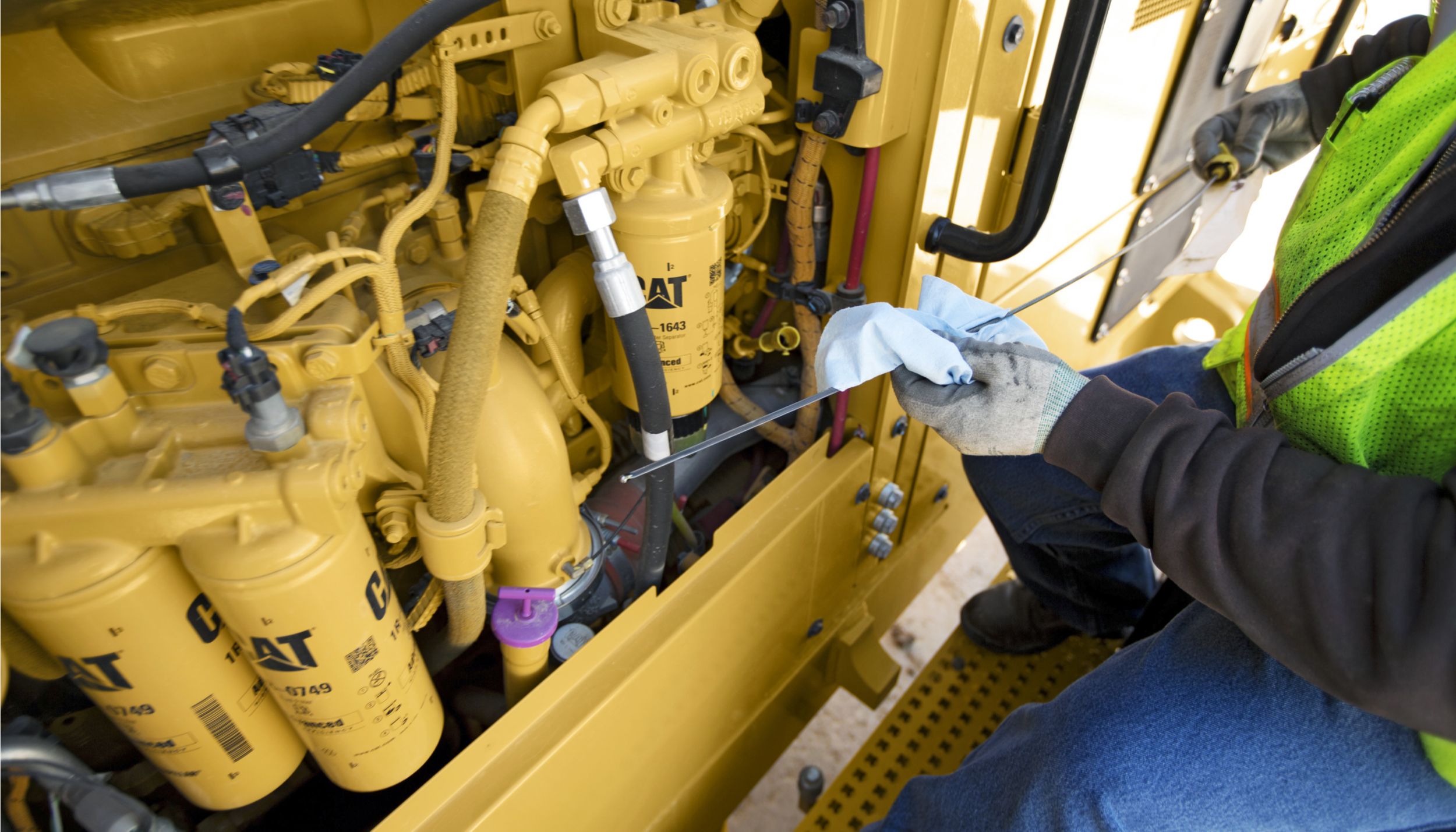 Engine
Base Power (1st Gear) - Net

178 kW

(238 HP)

Engine Model

Cat C13

Bore

130 mm

(5.1 in)

Stroke

157 mm

(6.2 in)

Speed at Rated Power

1,850 rpm

Note (3)

Net power advertised is the power available at rated speed of 1,850 rpm, measured at the flywheel when engine is equipped with fan, air cleaner, muffler and alternator.

Standard Capability

50 u00b0C

(122 u00b0F)

Note (2)

Optimized VHP Plus is standard for the 14M3.

Torque Rise

41%

Maximum Altitude - Full Power

4237 m

(13900 ft)

Maximum Torque - VHP Plus

1542 N·m

(1137 lb/ft)

Emissions

Tier 4 Final/Stage V, Tier 3/Stage IIIA equivalent or Tier 2/Stage II equivalent

Maximum Altitude - Full Power (Tier 3)

4374 m

(14349 ft)

Maximum Altitude - Full Power (Tier 2)

3672 m

(12049 ft)

Note (1)

Net power is tested per ISO 9249, SAE J1349, and EEC 80/1269 Standards in effect at the time of manufacture.

Standard - Fan Speed - Minimum

550 rpm

Note (4)

Power as declared per ISO 14396. Rated rpm 1,850. VHP+ = 228 kW (306 hp)

Displacement

12.5 l

(763 inu00b3)

Number of Cylinders

6
Frame
Circle - Outer Diameter

1822 mm

(71.7 in)

Front Axle - Wheel Lean - Left/Right

17.1u00b0

Front Axle - Total Oscillation per Side

32u00b0
Service Refill Capacities
Transmission and Differential

89 l

(23.5 gal (US))

Diesel Exhaust Fluid Tank (Tier 4 Only)

22 l

(5.8 gal (US))

Hydraulic System

125 l

(33 gal (US))

Circle Drive

7 l

(1.8 gal (US))

Cooling System

60 l

(15.9 gal (US))

Fuel Tank

416 l

(109.9 gal (US))
Moldboard
Blade Width

4.2 m

(14 ft)

Arc Radius

413 mm

(16.3 in)

Throat Clearance

117 mm

(4.6 in)

Blade Width - With End Bits

4290 mm

(169 in)

Blade Height - With Cutting Edge

631 mm

(24.9 in)

Blade Width - Without End Bits

4166 mm

(164 in)

Blade Height - Without Cutting Edge

585 mm

(23 in)
Blade Range
Maximum Depth of Cut

593 mm

(23.3 in)

Circle Centershift - Left

650 mm

(25.6 in)

Maximum Lift Above Ground

419 mm

(16.5 in)

Circle Centershift - Right

520 mm

(20.5 in)

Blade Tip Range - Backward

5u00b0

Maximum Shoulder Reach Outside of Tires - Right

2004 mm

(78.9 in)

Moldboard Sideshift - Right

790 mm

(31.1 in)

Moldboard Sideshift - Left

740 mm

(29.1 in)

Maximum Shoulder Reach Outside of Tires - Left

1870 mm

(73.6 in)

Blade Tip Range - Forward

40u00b0
Weights
Operating Weight - Typically Equipped

25968 kg

(57250 lb)

Gross Vehicle Weight - Base* - Total

23124 kg

(50980 lb)

Gross Vehicle Weight - Base* - Front Axle

6344 kg

(13994 lb)

Gross Vehicle Weight - Typically Equipped - Total

25968 kg

(57250 lb)

Gross Vehicle Weight - Typically Equipped - Rear Axle

19053 kg

(42005 lb)

Gross Vehicle Weight - Typically Equipped - Front Axle

6915 kg

(15245 lb)

Gross Vehicle Weight - Base* - Rear Axle

16780 kg

(36994 lb)
Engine
Note (5)

Cat engines equipped with a Selective Catalytic Reduction (SCR) system are required to use: Diesel Exhaust Fluid (DEF) which meets the requirements outlined in the International Organization for Standardization (ISO) standard 22241-1.
Weights
Note

*Base operating weight calculated on standard machine configuration with 20.5 R25 tires, full fuel tank operator and ROPS cab.
Air Conditioning System
Air Conditioning

The air conditioning system on this machine contains the fluorinated greenhouse gas refrigerant R134a (Global Warming Potential = 1430). The system contains 2.0 kg (4.4 lb) of refrigerant which has a CO2 equivalent of 2.860 metric tonne (2.76 ton).
Engine
Standard - Fan Speed - Maximum

1,600 rpm
Standard Equipment
NOTE

Standard and optional equipment may vary. Consult your Cat dealer for details.

OPERATOR ENVIRONMENT

Joystick, power adjustable armrests
Air conditioner with heater
Centershift pin indicator
Coat hook
Cup holder
Display, digital speed and gear
Doors, left and right side with wiper
Gauges (analog) inside cab (includes fuel, articulation, engine coolant temp, engine rpm, and hydraulic oil temp)
Gauges, machine level
Message display
Joystick gear selection
Joystick hydraulic controls for implements, steering, transmission
Ladders, cab, left and right side
Lights, left and right side lights
Lights, night time cab, LED
Meter, hour, digital
Mirror, inside rearview, wide angle
Power port, 12V
Radio ready, entertainment
ROPS cab, sound suppressed, less than 73 dB(A) ISO 6394 (70% fan speed)
Seat, mechanical suspension, cloth
Storage compartments
Throttle control, electronic

POWER TRAIN

Air cleaner, dual stage, dry-type radial seal with service indicator through messenger and dust ejector
Articulation, automatic Return-to-Center
Air-to-Air After Cooler (ATAAC)
Auto Diff Lock
Brake wear indication
Brakes, oil disc, four-wheel, hydraulic
Consistent power to ground
Monitoring system
Clutch, circle drive slip
Differential, lock/unlock*
Drain, engine oil, ecology
Demand fan, hydraulic
Engine ECO Mode
Ether starting aid
Fuel tank, ground level
Fuel-water separator
Hydraulic demand fan
Muffler, under hood (China Nonroad Stage III and Tier 3/Stage IIIA/Tier 2/Stage II equivalent)
Optimized VHP
Parking brake – multi disc, sealed, oil-cooled
Priming pump, fuel
Sediment drain, fuel tank
Three variations of the C13 engine. One meets Tier 4 Final/Stage V emission standards and is required for higher regulated countries. One meets Tier 3/Stage IIIA/China Nonroad Stage III standards, depending on emission standards of the specific country. One meets Tier 2/Stage II equivalent emission standards and is available for lesser or non-regulated countries, depending on standards of the specific country.
Transmission, 8F/6R, power shift, direct drive

ELECTRICAL

Alternator, 150 ampere, sealed
Batteries, maintenance free, HD, 1,125 CCA
Breaker panel
Electrical system, 24V*
Belt, serpentine, automatic tensioner
Lights: reversing (LED), roof-mounted roading, stop and tail (LED)
Product Link
Starter, electric
Service lights, enclosure, rear, LED

SAFETY

Alarm, back up
Ground level engine shutdown
Hammer (emergency exit)
Horn, electric
Lockout, hydraulic implement for roading
Operator Not Present Monitoring system
Paint, glare reducing – top of front frame, rear enclosure and ripper cylinders
Seat belt, retractable 76 mm (3 in)
Secondary steering
Windows, laminated glass: Fixed front with intermittent wiper; Side and rear wipers (3)
Optional Equipment
NOTE

Standard and optional equipment may vary. Consult your Cat dealer for details.

OPERATOR ENVIRONMENT

Air horn
Heated door
Mirrors high visibility
Mirrors, outside heated 24V
Mirrors, outside mounted
Seat, heated
Seat, heated/ventilated
Rearview camera
Seat belt indicator

POWER TRAIN

Transmission, autoshift
Engine, compression brake

TECHNOLOGY

Cat GRADE with Cross Slope
Stable Blade
Advanced Control Joysticks
Auto Articulation

GUARDS

Debris guard
Front axle cylinder guards
Rear fenders
Sound suppression, engine enclosure and transmission
Transmission guard
Accumulators, blade lift
Fast fill fuel, 378.5 L/min (100 gal/min)
Metallic DCM wear strips

ELECTRICAL

Light, LED, warning strobe
Lights, front headlights high
Lights, front headlights low
Mounting, for warning light
Working lights halogen
Working lights LED

SAFETY

Additional rearview camera and monitor
Machine security system key

OTHER ATTACHMENTS

Moldboard, 4.9 m (16 ft)
Heater, engine coolant, 120V
Heater, engine coolant, 240V
Hydraulic arrangements with additional hydraulic valves: Base +1, Base +3, Base +4, Base +5, Base +6
Product Link satellite, cellular
Rim, 431.8 mm x 635 mm (17 in x 25 in) MP (spare)
Snow wing, mounting frame ready
Fast fill

WORK TOOLS/G.E.T.

4.9 m (16 ft) blade with flat cutting edge 254 mm x 35 mm (10in x 1 3/8 in )
Push block, counterweight
Ripper, rear
Tooth, ripper

FLUIDS

Coolant, -51 degrees C (-60 degrees F)