Genset Details
Spark ignited lean burn natural gas engine
Electric power output with 10300 / 9830 ekW at 50 / 60 Hz application
Medium-speed engine concept with high efficiency up to 48.9 %
Designed for open cycle, base
 - and peak load as well as CHP application
Wide operating ranges with excellent load following capability and high part load efficiency
Compliance with World Bank Emission Certificate according to IFC-2008 without additional exhaust gas aftertreatment
Compliance with MCPD 2015/2193/EU, IED according to 2010/75/EU, and 13th and 44th BImSchV by using SCR and oxidation catalyst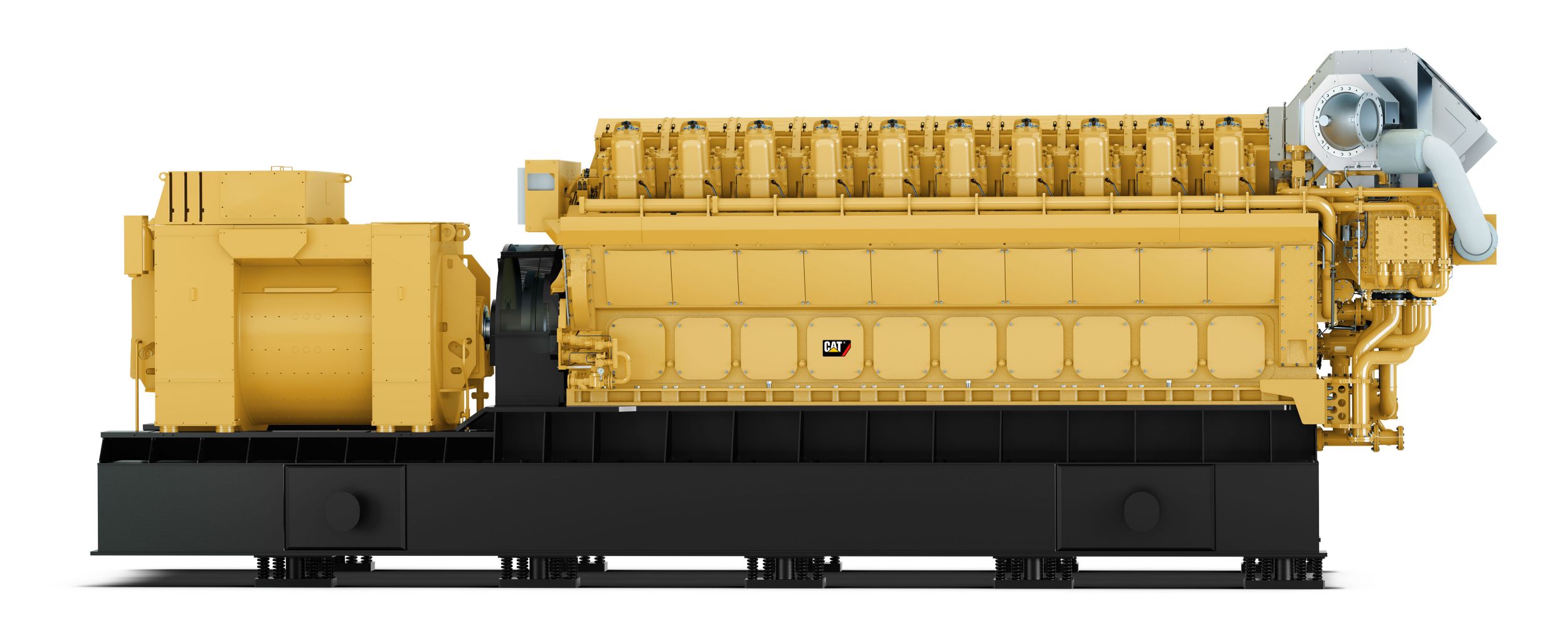 Fuel Flexibility
Capability for operation with various gas qualities
Variable configuration for natural gas with diverse methan number
Customization
Withstand the most challenging conditions and is thus offering a wide range of applications
Maximized benefits thanks to individual, tailor-made adjustments and extensions
Project-specific adjustment to fulfill challenging ambient conditions like high altitude and / or high temperature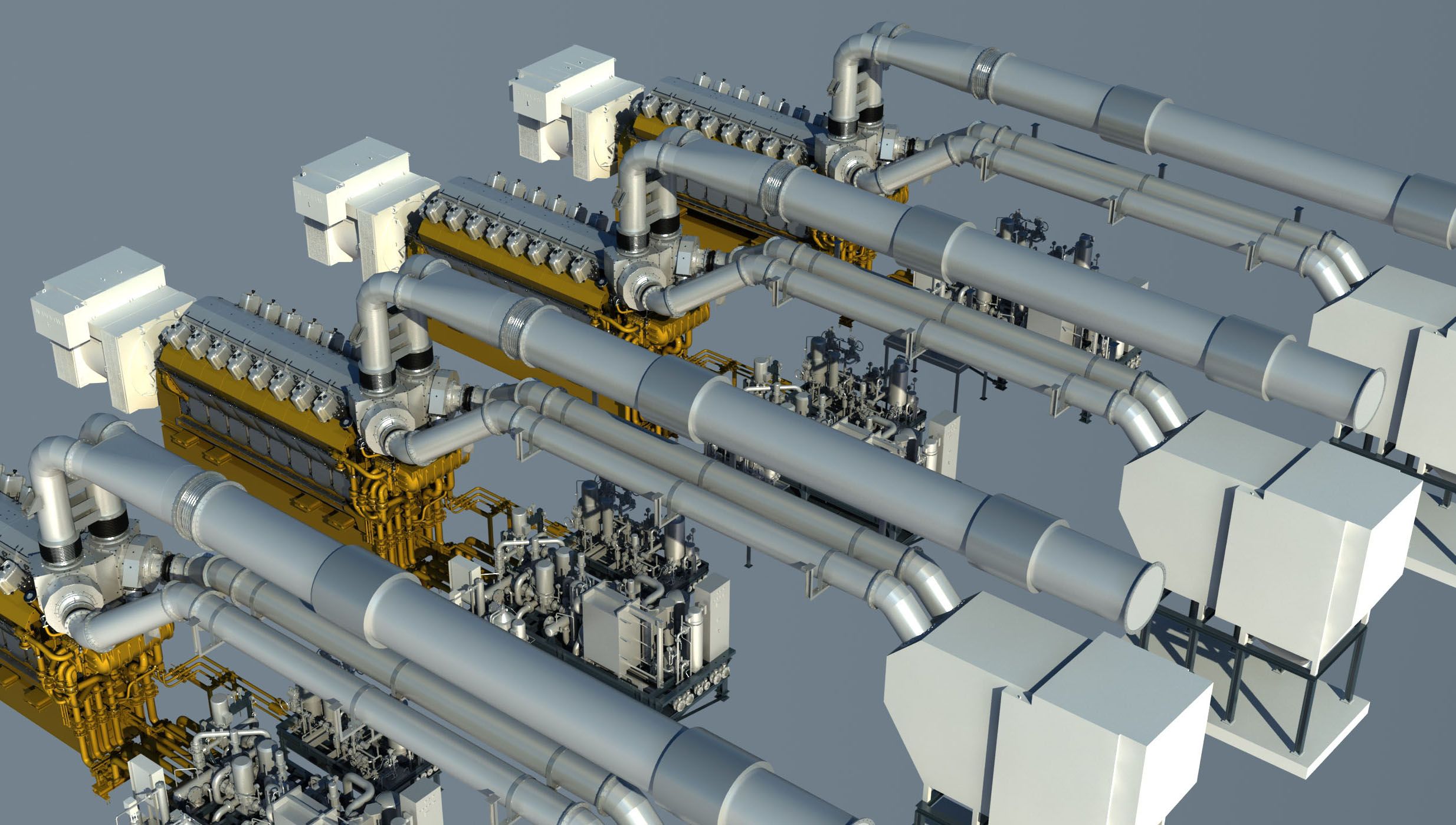 Modular scope of supply
The Caterpillar Standard Scope of Supply ensures maximum safety, best performance and excellent service capability for your Power Plant with our Gensets. Operational reliability creates a safe working environment for your employees based on our knowledge and experience, combined with the high quality of the selected components. We enable lowest fuel consumption due to an outstanding engine design as well as highest uptime through reliable power output. If you choose the Caterpillar standard scope of supply, our experienced team is capable to support you immediately remote and on site. With our Caterpillar optional scope, you can also get a wide range of auxiliaries for your power plant, convenient and fully compatible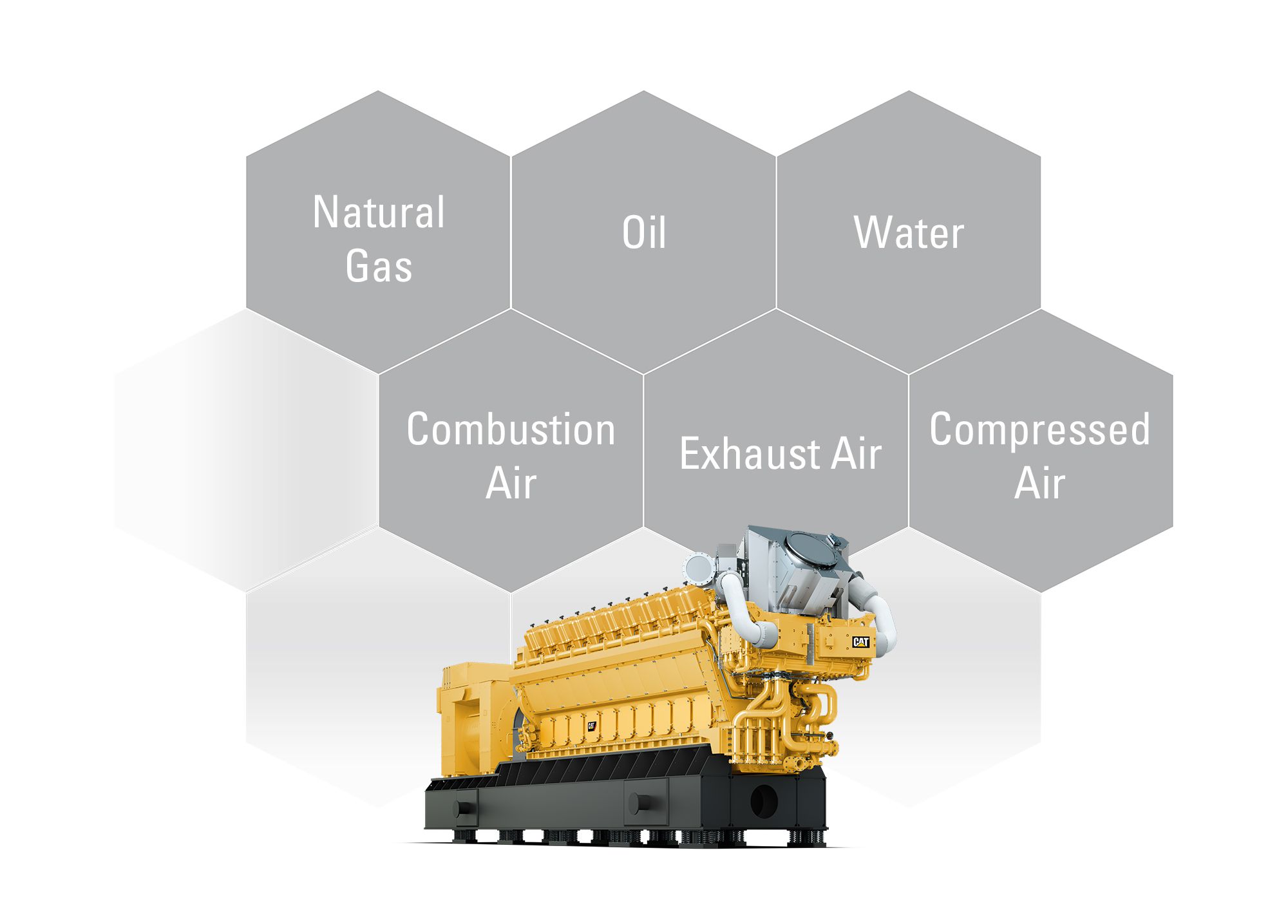 Gas Valve Unit
The GVU is a stand-alone auxiliary and regulates the gas supply under all required conditions for engine operation. It is designed for natural gas operation and is therefore equipped with special safety devices. Within the GVU, the incoming natural gas is separated into ignition and main gas. Special sensors and valves enable the pressure and leakage detection to shut-off both lines. The equipment of the gas valve unit shown in the picture above is the variant according to European standard.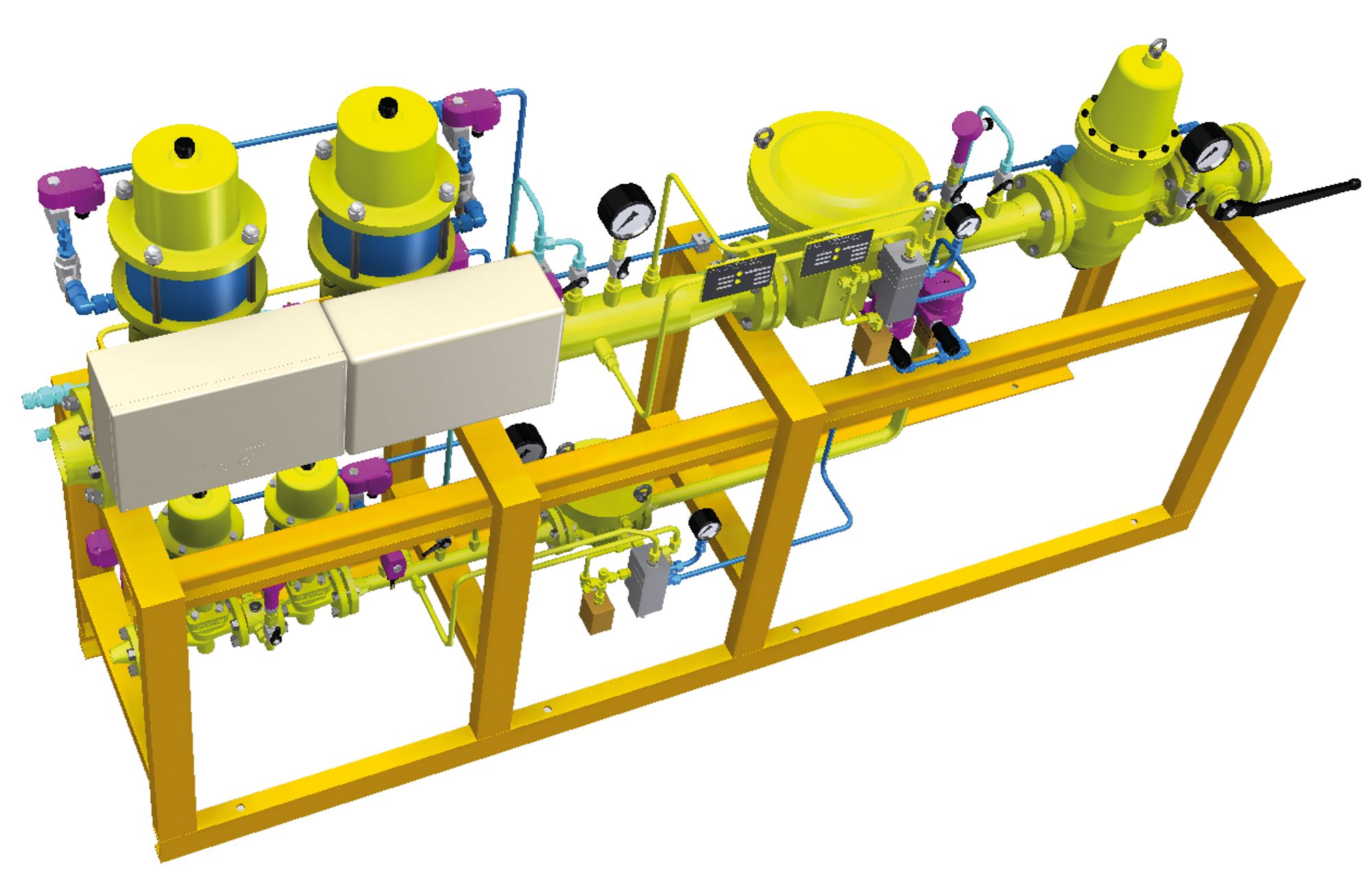 Cooling water and lube oil combined module
The combined module includes the main components of the cooling water system and the lube oil system and is located in the power house. It provides the engine with a sufficient amount of cooling water and conditioned lube oil. The selection of the appropriate module is made by Caterpillar Motoren GmbH & Co. KG. To prevent contamination from expanding, each engine is equipped with its own combined module.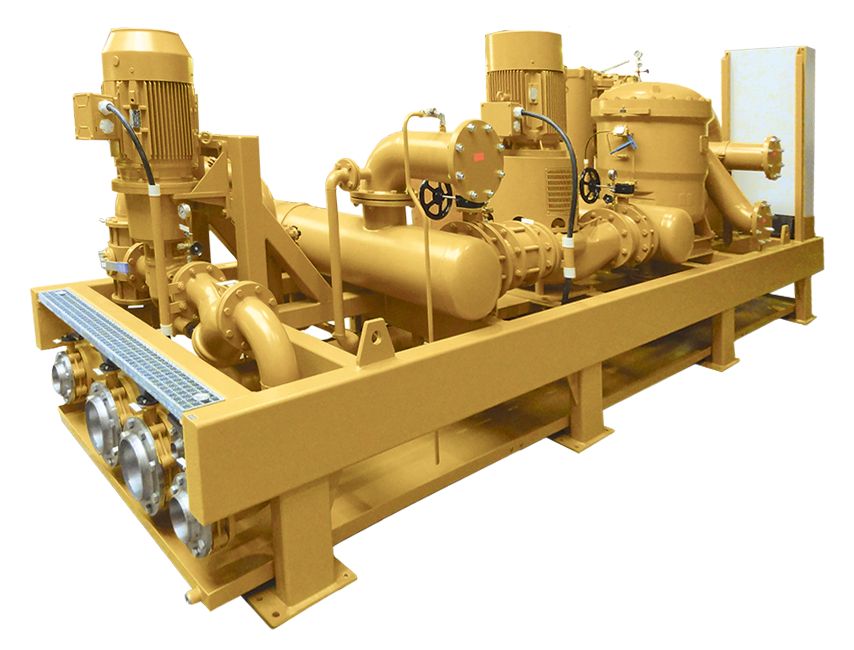 World Wide Product Support
Training Center: Get the most out of your engine while we are focusing on your individual requirements. We provide a customized engine training for customer and dealer personnel which will help you to get a competent knowledge about the engine, its components and maintenance procedures.
The Engine Training Center is located at the Caterpillar Motoren facility in Kiel
 - modernized and reopened in 2011. The training classes are conducted for up to eight customers, so you have the best efficiency in learning. Several classrooms and all current engine types and technologies are available
 - for both theoretical as well as hands-on training.
REParts Center: In addition to the traditional spare parts business, we also offer a broad portfolio of value-added after-sales services, including the reconditioning of wear parts. This enables you to operate your equipment even more efficiently.
Rebuilding MaK genuine parts enables a second life, adding value to your investment and reducing overall owning and operating costs. Through our new MaK Repair and Exchange Parts program, we are able to offer our customers extensive repair and exchange options, which provide same-as-new performance and reliability at a fraction of new price. The results are maximum engine productivity and lower life cycle costs –while reducing the impact on the environment.
Generator Set Specifications
Maximum Continuous Rating

9830 / 10300 ekW @ 0.8 pf

Fuel Type

Natural Gas

Maximum Electrical Efficiency

48.9%

Frequency

50 / 60 Hz

RPM

750/720
Engine Specifications
Engine Model

G20CM34

Displacement

762.6 l

(46484.2 inu00b3)

Aspiration

Turbocharged and Aftercooled

Bore

340 mm

(13.38 in)

Stroke

420 mm

(16.53 in)
Generator Set Dimensions
Length

14280 mm

(562.2 in)

Width

3910 mm

(153.9 in)

Height

5390 mm

(212.2 in)

Dry Weight - Genset

164000 kg

(361559 lb)
Generator Set Specifications
Frequency

50/60 Hz
Standard Equipment
Safety

Crankcase ventilation
Oil mist detector

Fuel System
Combined Module

Cooling water- and lubricating oil system partly on a common base frame with standardized pipe interface. (Cooling water system requires additional cooling towers, radiators or similar)

Intake Air

Systems that can be adjusted to suit the ambient conditions are available, such as pocket filters, oil bath filters or pulse filters

Starting Air

Starting air compressor module
Starting air receiver module

Exhaust Gas

Exhaust gas ventilation module
Exhaust gas silencer
Further elements, such as SCR and oxidation catalyst, are available as options

Control & Monitoring System

Provides the control, monitoring and protection functions of the engine, generator and engine support modules through:

Local Control Panel (LCP) (recommended) or
Local Data Panel (LDP) and Generator Control Panel (GCP)

Provides the control of the engine support modules through Motor Control Center (MCC)
Asset Intelligence System: Your remote diagnostic system, worldwide

Vibration damping

Optimum oscillation and vibration damping systems for safe and operationally reliable set-up of the plant, especially adjusted to suit your ambient conditions.
Engine and generator can be supplied as a unit on a common base frame