MOVE MORE WITH LESS FUEL
Cat C9.3 engine delivers more horsepower using less fuel and meets current Tier 4 Interim emissions standards.
Isochronous speed control to maintain a constant speed
 - regardless of load
 - to improve fuel economy.
Three power modes are offered: high power, standard power, and economy power.
Offers the flexibility of running on either ultra‑low-sulfur diesel (ULSD) fuel with 15 ppm of sulfur or less or bio diesel (B20) fuel blended with ULSD.
Equipped with one-touch idle to reduce engine speed quickly and conserving fuel.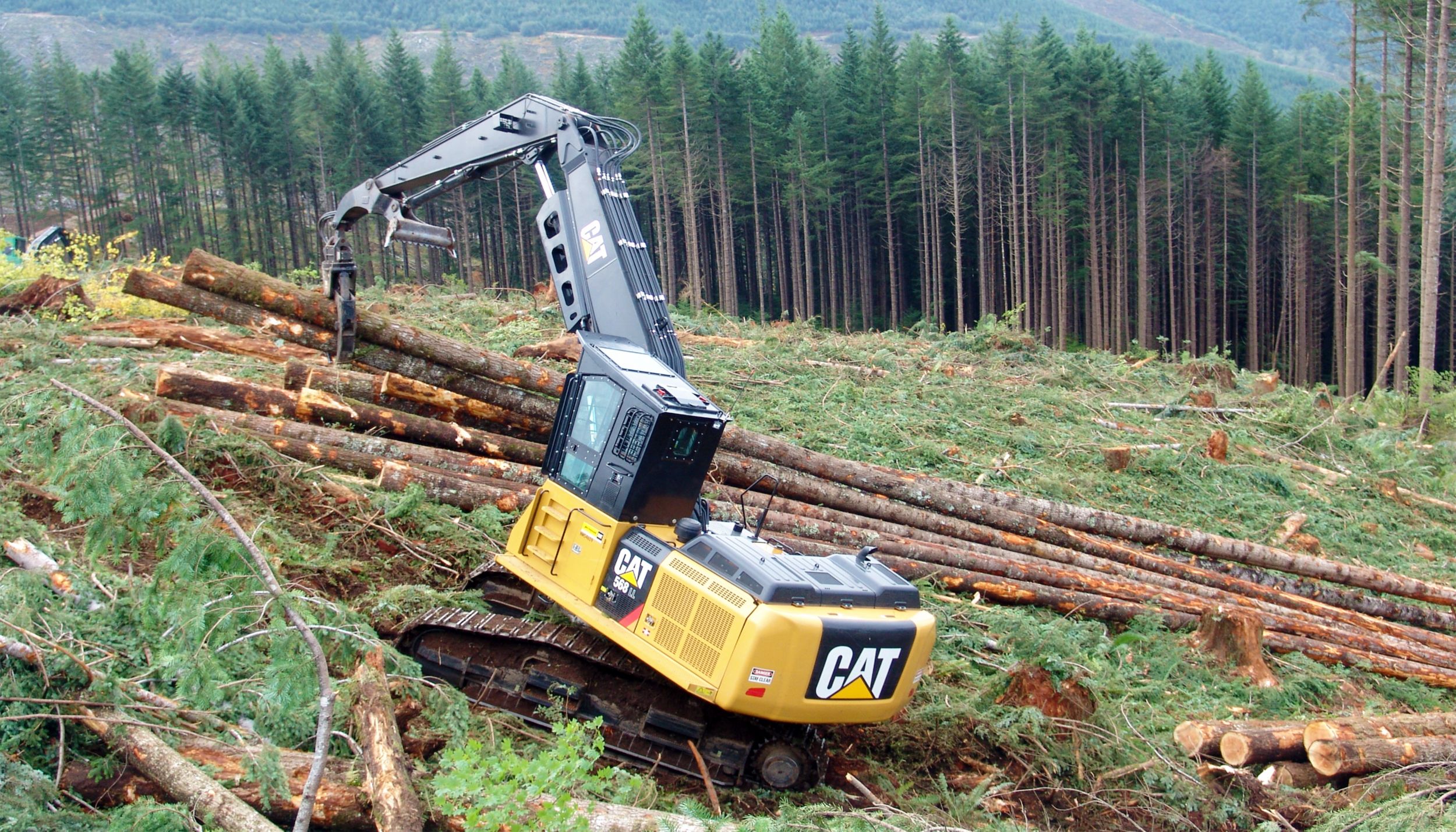 POWERFUL EFFICIENCY
Efficient hydraulic horsepower is a key advantage to Cat Forest Machines.
More than just the engine power under the hood.
Hydraulic horsepower for the 568 increased from the previous series' output due to pump and other system improvements, meaning you move more material in less time.
A high-pressure system tackles the toughest of work in short order. A new one-piece, cast-block, back-to-back main control valve features resized and reshaped oil passages for improved efficiency and serviceability; stackable auxiliary valve attachments mount on top of the main valve, allowing auxiliary hydraulic lines and valve configurations to be simplified for greater reliability.
Return filter is a capsule design with a cartridge inside. Unlike many competitors, the Cat cartridge features a handle to help remove and change without oil spillage or contamination. A sensor attached to the filter warns the operator if it is plugging or exceeds a certain pressure level.
The swing priority circuit uses a new electric valve that's operated by the machine's improved Electronic Control Module (ECM) for more finely tuned control for more productive material loading.
A new electric boom regeneration valve minimizes pump flow when the boom lowers, improving fuel economy. It is optimized for any dial speed setting being used by the operator, which aids controllability and enhances component durability.
A Stick Regeneration Circuit regenerates the flow of oil from the rod end of the stick cylinder to the head end of the stick cylinder during low-load, stick-in operation, saving energy and expense.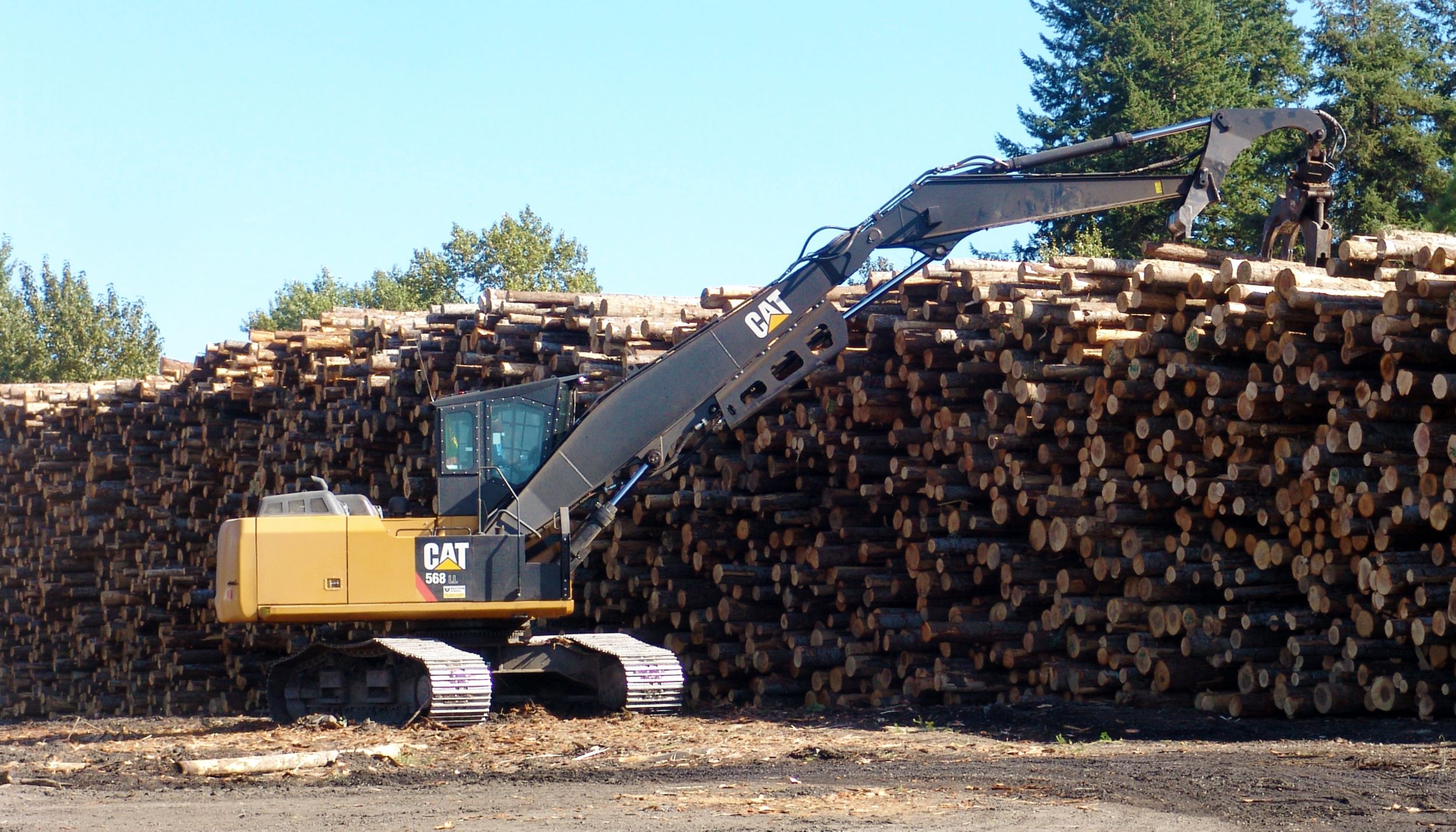 OPERATOR COMFORT AND CONTROL
New seat options include air suspension, heated standard, and heated and air-cooled option. Each seat includes a reclining back, upper and lower seat slide adjustments, and height and tilt angle adjustments to meet operator preferences.
Right and left joystick consoles can be adjusted to meet the operator's preference, enhancing comfort and productivity.
One-touch idle reduces engine speed saving fuel; touch control button again or move the joystick and the machine returns to normal operating level.
Optional heavy-lift mode increases machine system pressure to improve lift. Heavy lift mode also reduces engine speed and pump flow in order to improve controllability.
A new LCD (Liquid Crystal Display) monitor is 40% larger and offers higher resolution for better visibility.
Updated climate control system provides comfortable working conditions.
HEAVY DUTY CONSTRUCTION
The upper frame includes new reinforced mountings to support the Roll-Over Protective Structure (ROPS) cab.
Longer undercarriage system provides added stability in the most demanding applications.
Heavy-duty track rollers, and carrier rollers, press-fit pin master joints, and enhanced track shoe bolts improve durability and reduce the risk of machine downtime.
New full-length guiding guard maintains track alignment and improves performance and undercarriage life.
A redesigned motor housing prevents mud packing and debris buildup around seals.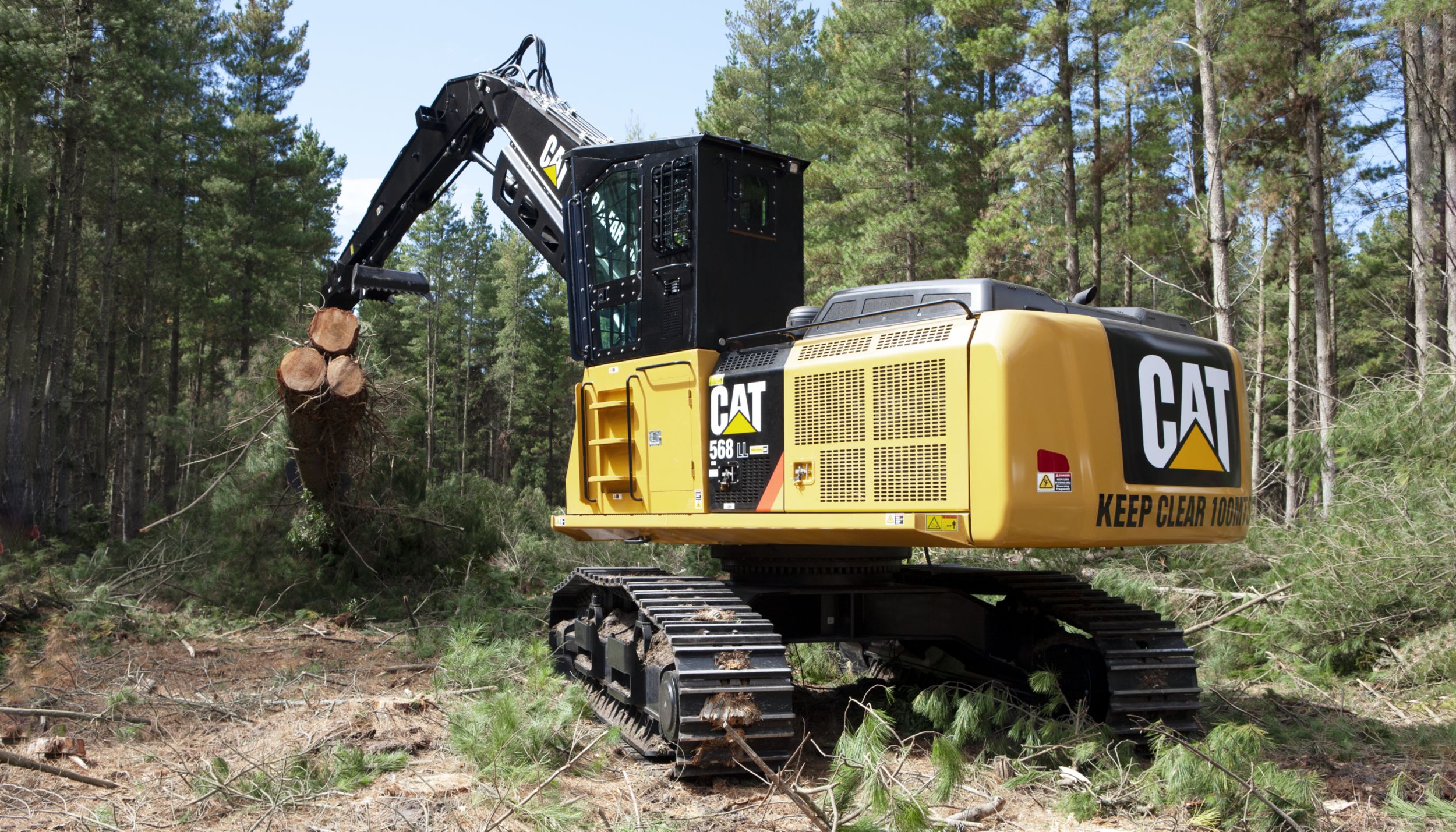 OPTIONS TO MEET YOUR NEEDS
General Forestry and Log Loader booms and sticks are available. Each is built with internal baffle plates for added durability, quality and reliability. Large box-section structures with thick, multi-plate fabrications, castings, and forgings are used in high-stress areas to improve durability.
Two General Forestry, two Log Loader boom and stick, and three heel options available to match a variety of forestry applications. There is also a DB-Family Bucket Linkage available for the General Forestry configurations.
An extensive range of tools can be fit including grapples, buckets and thumbs. Each is designed to optimize the versatility and performance of your machine.
A complete line of shovel and loading grapples are available, including 52″, 55″ and 60″ sizes to meet a range of applications.
Quick couplers allow one person to change work tools in seconds for maximum performance and flexibility on a job site. One machine can move rapidly from task to task, and a fleet of similarly equipped machines can share a common work tool inventory.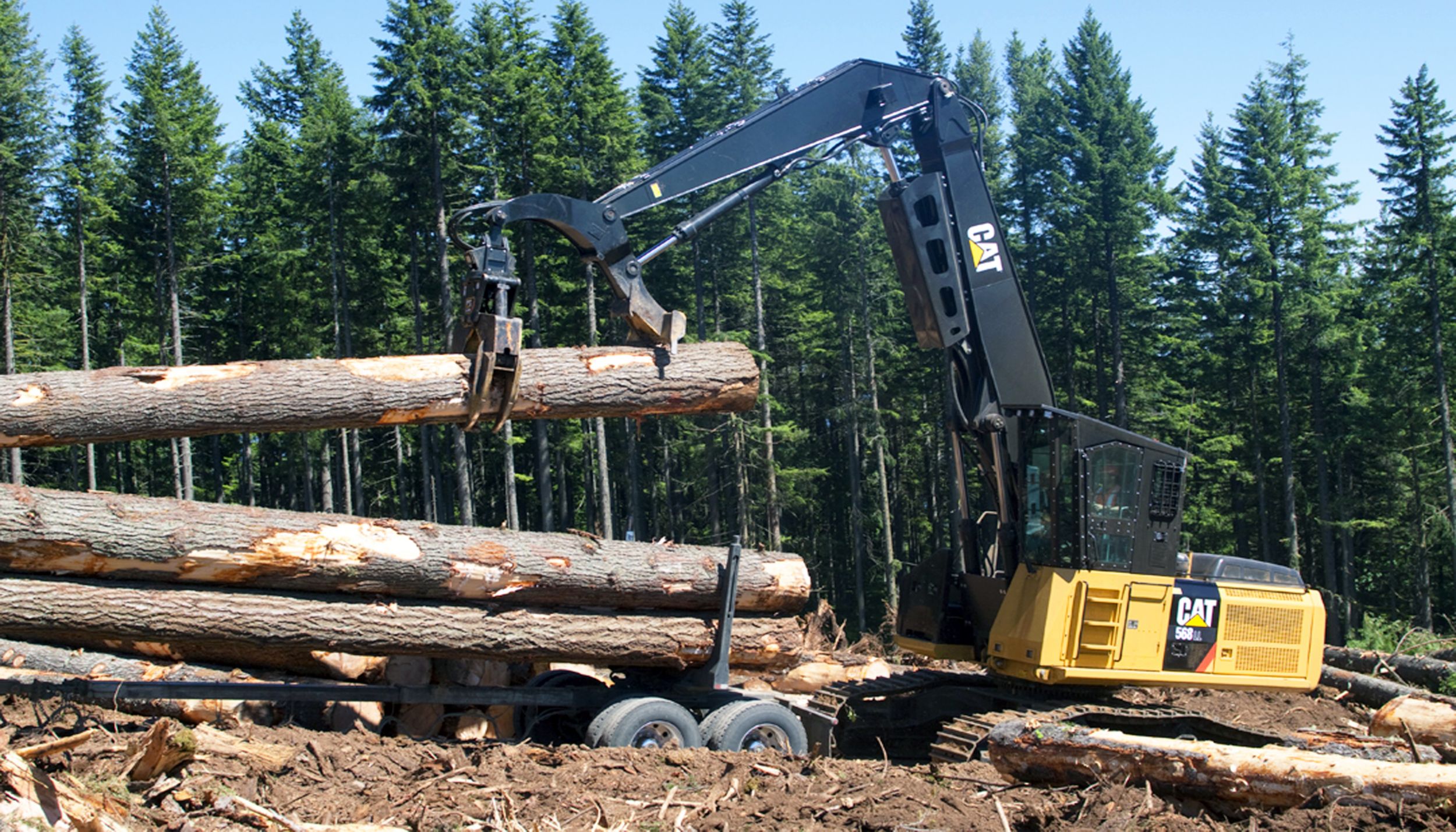 EFFICIENCY THROUGH TECHNOLOGY
The 568 features unique electric boom and stick regeneration valves. The valves use gravity during typical "boom down" or "stick in" operations to regenerate flow of oil from the head end of the cylinder to the rod end of the cylinder instead of sending it all the way back to the hydraulic tank. This distinct Cat solution increases efficiency and reduces cycle times and pressure loss for higher productivity and lower fuel costs.
A high pressure hydraulic system as standard. It is a one-piece, cast-block, back-to-back control valve, improving efficiency and serviceability. Auxiliary valves are stackable and mounted on top of the main valve, simplifying and leading to greater reliability. Fuel consumption is reduced by re-sizing and shaping of the oil passages inside the new valve.
Cat Product Link* technology is a deeply integrated machine monitoring system designed to help customers improve their overall fleet management. Events and diagnostic codes as well as hours, fuel consumption, idle time, machine location, and other data are transmitted to a secure, web-based application called VisionLink™, which uses powerful tools to communicate to users and dealers. *Product Link licensing is not available in all areas. Please consult your Cat dealer for availability.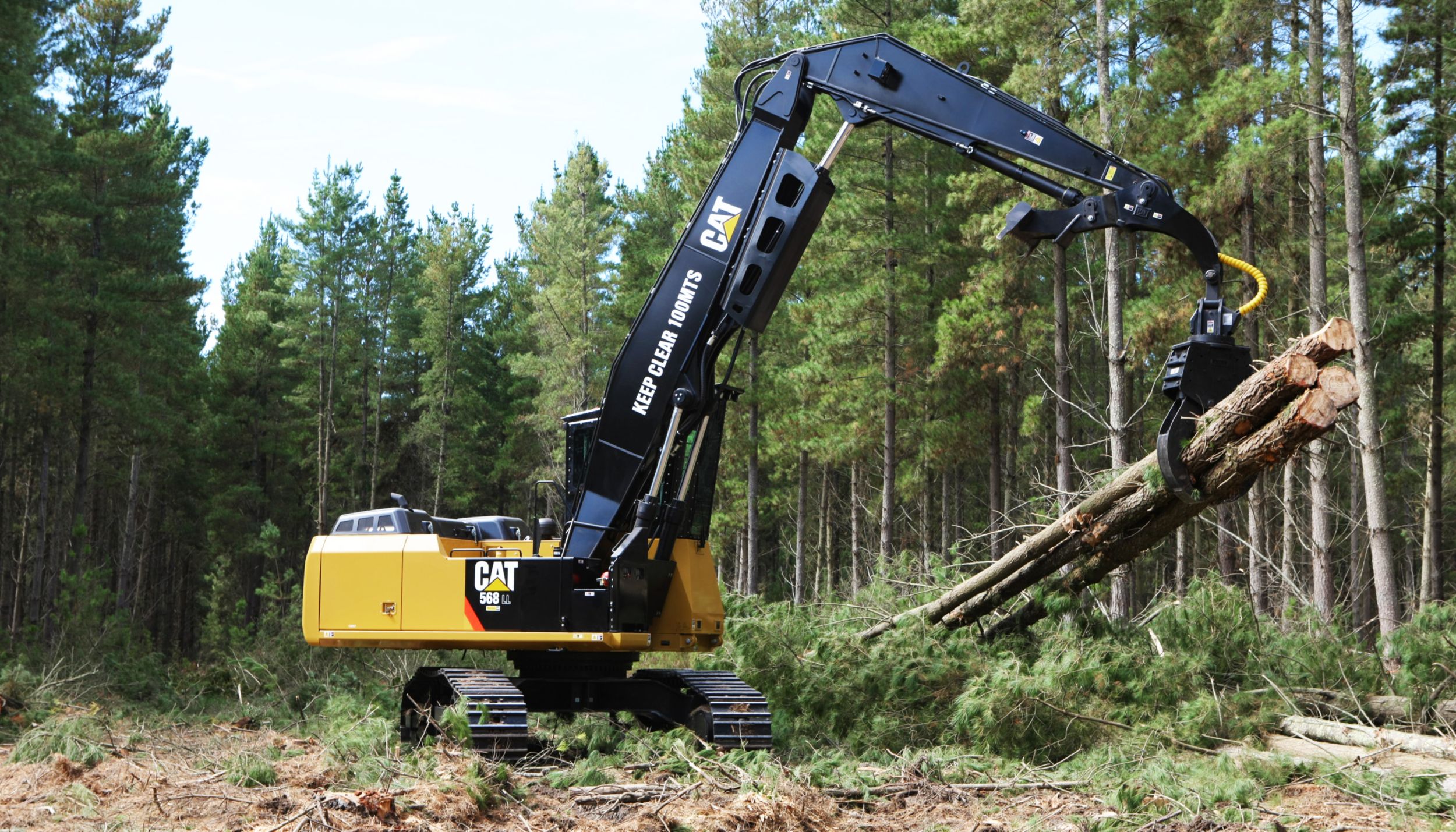 TOP-TIER SERVICE AND SUPPORT
The 568 accommodates servicing most maintenance items from the safety and comfort of ground level.
Wider, taller service doors feature sturdier hinges and latches, and a new slotted-hole vent design preventing debris entry. A new one-piece hood provides easier access to the engine and cooling compartments along with a new hood screen design to prevent debris entry.
The radiator, pump and air cleaner compartments provide easy access to major components. When an air cleaner plugs, a warning is displayed on the in-cab monitor.
The electric priming pump is mounted on the primary filter base and is more reliable and easier to service than traditional hand-priming pumps.
The engine oil check gauge is situated in front of the engine compartment and is easy to remove.
The engine oil filter is located in the pump compartment for easy access.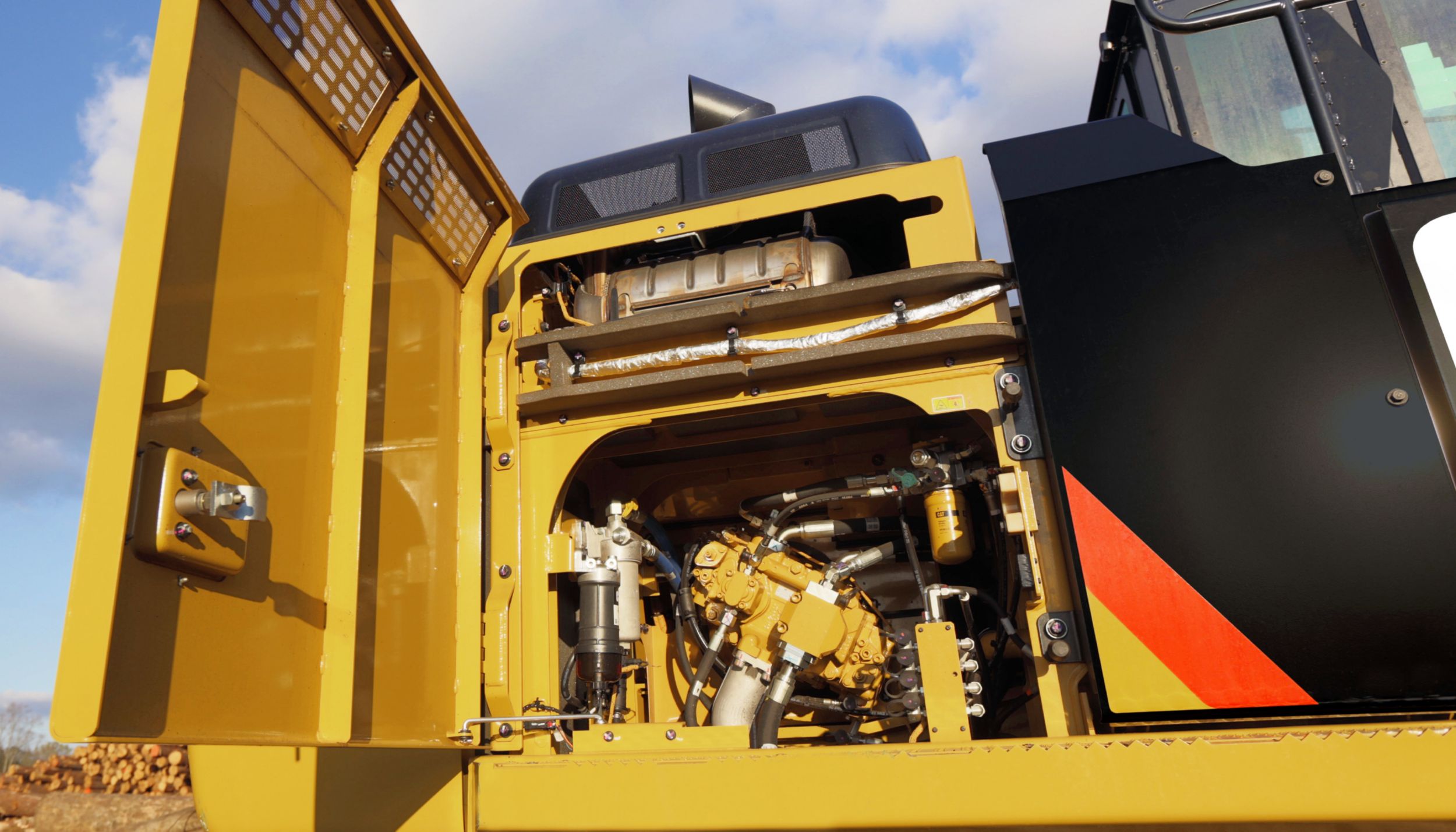 Engine
Engine Model

Cat C9.3

Net Flywheel Power

217 kW

(291 HP)

Gross Power

238 kW

(319 HP)

Bore

115 mm

(4.53 in)

Stroke

149 mm

(5.87 in)

Displacement

9.3 l

(567.5 inu00b3)

Rated Power

221 kW

(296 HP)

Rated Speed

1800 r/min

(1800 r/min)

Maximum Torque

1426 N·m

(1051.7 ft-lb)

Number of Cylinders

6
Weights
Log Loader (U/U)

48139 kg

(106128 lb)

Log Loader (O/U)

48298 kg

(106479 lb)

General Forestry

43184 kg

(95204 lb)
Service Refill Capacities
Cooling System

56 l

(14.8 gal (US))

Engine Oil

30.5 l

(8.1 gal (US))

Hydraulic Tank

175 l

(46.2 gal (US))

Final Drive - Each

8 l

(2.1 gal (US))

Fuel Tank Capacity - Main

620 l

(163.8 gal (US))

Swing Drive - Log Loader 2x

20 l

(5.3 gal (US))

Fuel Tank Capacity - Total

1200 l

(317 gal (US))

Swing Drive - General Forestry

19 l

(5 gal (US))

Fuel Tank Capacity - RF

580 l

(153.2 gal (US))

Hydraulic System - Total

380 l

(100.4 gal (US))
Standards
Brakes

ISO 10265:1998 ISO 11512:1995

ROPS/FOPS/OPS/TOPS

ISO 8083:1989 LEVEL I ISO 8083:1989 LEVEL II*
Hydraulic System
Maximum Pressure - Implements

35000 kPa

(5076 psi)

Pilot System - Maximum Flow

26 l/min

(6.87 gal/min)

Pilot System - Maximum Pressure

4100 kPa

(595 psi)

Log Loader - Boom Cylinder - Stroke

1340 mm

(52.8 in)

Log Loader - Bottom Heel Cylinder - Bore

150 mm

(5.9 in)

Maximum Pressure - Swing - Single

28000 kPa

(4061 psi)

Log Loader - Stick Cylinder - Bore

180 mm

(7.1 in)

Log Loader - Stick Cylinder - Stroke

1661 mm

(65.4 in)

Log Loader - Top Heel Cylinder - Bore

160 mm

(6.3 in)

General Forestry - Stick Cylinder - Stroke

1738 mm

(68.4 in)

Main Pump System - Maximum Flow (2x)

289 l/min

(76.3 gal/min)

Maximum Pressure - Swing - Dual

31400 kPa

(4550 psi)

General Forestry - Bucket Cylinder - Bore

150 mm

(5.9 in)

Log Loader - Boom Cylinder - Bore

170 mm

(6.7 in)

Log Loader - Top Heel Cylinder - Stroke

1465 mm

(57.7 in)

General Forestry - Bucket Cylinder - Stroke

1151 mm

(45.3 in)

General Forestry - Stick Cylinder - Bore

170 mm

(6.7 in)

Log Loader - Bottom Heel Cylinder - Stroke

1155 mm

(45.5 in)

General Forestry - Boom Cylinder - Bore

150 mm

(5.9 in)

Auxiliary Pump - Maximum Pressure - Factory Setting

10350 kPa

(1500 psi)

Auxiliary Pump - Maximum Flow - Capacity

108 l/min

(28.5 gal/min)

General Forestry - Boom Cylinder - Stroke

1440 mm

(56.7 in)

Auxiliary Pump - Maximum Pressure - Capacity

25000 kPa

(3626 psi)

Auxiliary Pump - Maximum Flow - Factory Setting

51 l/min

(13.5 gal/min)
Drive
Maximum Drawbar Pull

317 kN

(71264 lb)

Maximum Travel Speed

4.8 km/h

(3 mile/h)
Track
Number of Track Rollers - Each Side

10

Number of Carrier Rollers - Each Side

2

Number of Shoes - Each Side

52
Operating Specifications
Maximum Swing Speed - General Forestry

10 r/min

(10 r/min)

Maximum Drawbar Pull

317 kN

(71264 lb)

Swing Torque - General Forestry

148.5 N·m

(84024 ft-lb)

Swing Torque - Log Loader

148.5 N·m

(109560 ft-lb)

Maximum Swing Speed - Log Loader

6.3 r/min

(6.3 r/min)

Operator Height from Ground (eye level) - General Forestry Cab 0.48 m (18 in) Riser

3.4 m

(135 in)

Maximum Speed High Range

4.8 km/h

(3 mile/h)

Operator Height from Ground (eye level) - Log Loader Cab 1.2 m (48 in) Riser

4.2 m

(165 in)
Undercarriage
Track Length

5390 mm

(212 in)

Track Gauge

2920 mm

(115 in)

Ground Clearance

760 mm

(30 in)

Undercarriage Pitch

215.9 mm

(8.5 in)

Undercarriage Size

345HD
Standard Equipment
NOTE

Standard and optional equipment may vary. Consult your Cat dealer for details.

POWER TRAIN

Cat® C9.3 engine
Meets U.S. EPA Tier 4 Interim emissions standards
Bio Diesel capable
2300 m (7,500 ft) altitude capability
Electric priming fuel pump
2×4 micron main filters and 1×10 micron primary filter in fuel line
24-volt electric starting
Air intake heater
Automatic engine speed control with one touch low idle
Water separator in fuel line
Two speed auto-shift travel
Easy clean cooling system with full screens
Muffler
Flexxaire auto reversing fan
High ambient cooling capacity, 48° C (118° F)
Side by side cores
Starting aid cold weather starting package with two additional batteries, HD starter, ether and block heater

HYDRAULIC SYSTEM

Regeneration circuit for boom and stick
Reverse swing dampening valve
Automatic swing parking brake
High performance hydraulic return filter
Capability of installing HP stackable valve and medium and QC valve
Standard auxiliary pump adjustable to 108 L/min (28.5 gal/min)
Capability of installing boom lowering control device and stick lowering check valve
Capability of installing Cat Bio hydraulic oil

UNDERCARRIAGE

Straddle mounted carrier rollers
Heavy duty track motor guard
Heavy duty track rollers (10 per side)
Heavy duty recoil mechanism
345 HD, GLT4 Track
Idler track guiding guards
Full length track shoe support
GFT80 high drawbar FD
Towing eye on base frame

ELECTRICAL

80 ampere alternator
4 front working lights cab top mounted
1 left side working light
2 right front working lights
2 riser mounted lights
1 rear working light
Horn
Pre-start monitoring system (engine oil, coolant hydraulic oil)

OPERATOR ENVIRONMENT

Purpose built forestry cab with scratch resistant polycarbonate windows, ISO 8084 and SAE 1084 certified OPS, ISO 8083 and SAE J231 certified FOPS, and SAE J1356 certified FOGS, OR-OSHA code 437-0775 TOPS and WCB G602/G603/G604/G608
ROPS: ISO 3471:1997 Table 1, Section 1
Seat KAP 527P, air suspension, heated seat, retractable seatbelt and headrest
Integrated seat, console and joystick type controls
Language display monitor with gauges, Warning information, filter/fluid change information, machine condition, error code and tool mode setting information, start up level check for hydraulic oil and engine coolant
Full time clock on monitor (2 weeks)
Seat mounted joystick with extra functions for grapple
Fixed polycarbonate skylight with retractable sun shade, meeting SAE J1084
Interior lighting
Lower and upper windshield wipers and washer
Positive filtered ventilation, pressurized cab with bi-level air conditioner, heater and defroster with manual control
Forced air fan
Behind seat storage tray with tie down points
2 CB radio mounts
1 fire extinguisher mount
1 attachment computer control mount
Secondary roof exit openable from inside and outside
2 coat hooks
Ashtray with lighter
Literature holder
Cup holder
Neutral lever (lockout) for all controls
Travel control pedals with removable hand levers
Washable floor mat
Radio/CD player (12V)
1 converter/2 sockets – 12V-10A power supply

FLUIDS

Antifreeze
Includes 50% concentration with protection of -34° C (-30° F)

OTHER STANDARD EQUIPMENT

Heavy duty upper frame with catwalks
Heavy duty bottom guard
Heavy duty side doors
Core hydraulic lines and controls with standard main valves on upper structures
Door and cover locks with Cat one key security system
Automatic swing parking brake
Fully pressurized hydraulic system
Fine swing control travel alarm
Counterweight with lifting eye
Right front corner guard
Right front corner fuel tank and standard fuel tank
321SR Product Link
Optional Equipment
NOTE

Standard and optional equipment may vary. Consult your Cat dealer for details.

BOOMS, STICKS AND LINKAGES

Front Linkage
Grapples
Heels

HYDRAULICS
LINE GROUPS
OTHER ATTACHMENTS

Straight travel pedal
Auxiliary drive
International – ISO films

FLUIDS
FIELD INSTALLED ATTACHMENTS

Kit, AEM cab installation
Kit, Butt-N-Top installation

PACKING

Domestic
Miscellaneous
Order Change Charges